Timekeeping to play a big role at the Games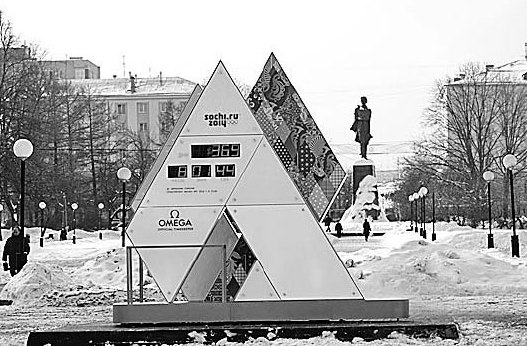 Countdown clocks have been set up in nine cities across Russia in the leadup to next winter's Sochi Olympic Games. Provided to China Daily
Less than a year remains until the Sochi 2014 Olympic Winter Games' opening ceremony on Feb 7, and nine Omega Countdown Clocks, spread across the Russian Federation, have been meticulously counting down the days, hours, minutes and seconds until the vibrant celebration takes place and Omega assumes its official timekeeping responsibilities for the 26th time since 1932. On March 7, the brand will assume the same role at the Paralympic Winter Games.
In 1936, Omega served as the official timekeeper at its first Olympic Winter Games in Garmisch-Partenkirchen, Germany - a single technician was equipped with 27 Omega stopwatches used to time every event. For more than 75 years, the brand has enriched its tradition of innovation and has been behind the invention and introduction of some of the most advanced sports timekeeping technologies.
With its deep-rooted and rich sporting history, Omega is thrilled to take part in another edition of the Olympic and Paralympic Games, where the world's greatest winter athletes will compete for gold in Sochi's dynamic landscape. As official timekeeper, Omega says it is proud to work with the IOC, sporting federations and athletes to ensure that the timekeeping technology used at the Sochi 2014 Olympic and Paralympic Winter Games fuels the Olympic spirit and captures every defining split-second.
(China Daily 04/05/2013 page11)
Most Popular
Highlights
What's Hot