Late-game woes cost Nets another loss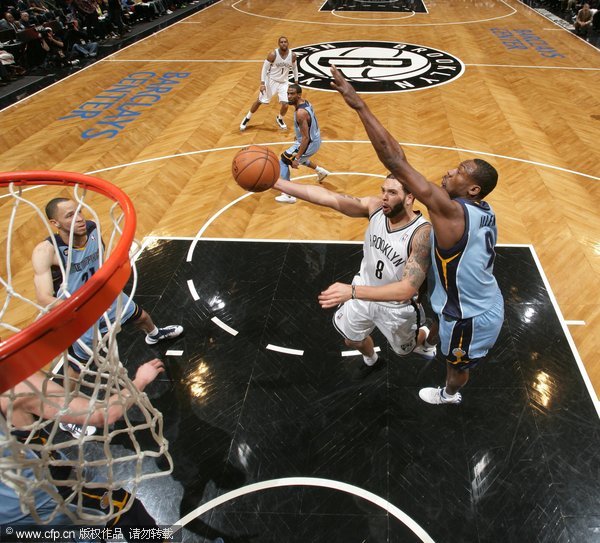 Deron Williams (No.8) of the Brooklyn Nets shoots against Tony Allen (No.9) of the Memphis Grizzlies at the Barclays Center in the Brooklyn borough of New York City February 24, 2013 [Photo/CFP]
Brooklyn Nets fell flat late in their match against visiting Memphis Grizzlies, one of the league's best defensive teams, at Barclays Center on Sunday night.
The Nets, who scored a season-low 72 points while conceding 76, had a comfortable five-point lead after Mirza Teletovic knocked down a mid-range jumper with 2:49 remaining in the fourth quarter. But they failed to score any more due to a series of poor executions which the Grizzlies took advantage of and stole the victory.
"We didn't make shots. And their defense had a lot to do with that. We also had a lot of looks we liked, and we just didn't put the ball in," says Nets head coach PJ Carlesimo.
"You can't beat a team this good if you can't make free throws and missed some of those shots that we missed down the stretch."
The Nets were 5-for-13 from the foul line, while the Grizzlies only missed two of their 12 free throws.
Brook Lopes, Nets' leading scorer, continued his struggles since the All-Star weekend with 9 points on a 3-for-10 shooting. He was benched for the entire fourth quarter – the third time this season – which could stem from his confidence issues, according to Carlesimo.
The Nets were handed the second straight defeat after their premier shooting guard Joe Johnson sat out with heel problems. He could return to the lineup on Tuesday's game against New Orleans Hornets if there is some progress, said Carlesimo.
Deron Williams picked up his offense, pacing the Nets with 24 points, his highest in a month, along with 4 assists. But he missed a critical tie-breaking layup, which he thought was a foul, and had a bad pass in the last 26 seconds.
"I was hit in the calf (during the layup)…Definitely I got fouled. But they didn't call," said Williams. "I turned the ball over in the next play, which is even more frustrating how we executed down the stretch."
Most Popular
Highlights
What's Hot