Bryant silences Cuban with 38 points in Lakers' win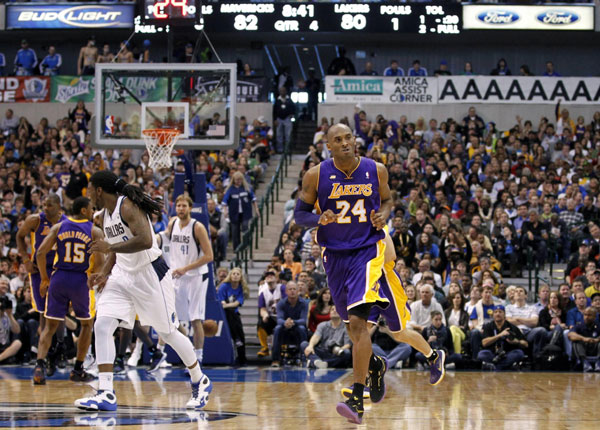 Los Angeles Lakers guard Kobe Bryant looks toward the Laker's bench after hitting a three-point shot against the Dallas Mavericks during the second half of their NBA basketball game in Dallas, Texas February 24, 2013. [Photo/Agencies] 
Kobe Bryant fired back at Dallas owner Mark Cuban with 38 points as he lifted the Los Angeles Lakers past the Mavericks 103-99 on Sunday.
After Cuban recently suggested the Lakers should consider waiving Bryant and his league-high salary next season, the five-time NBA champion showed his worth with an artistic display of clutch shooting and all-around effort that included 12 rebounds and seven assists.
"It was a big win for us," Bryant told reporters after finishing with 14 fourth-quarter points to seal the triumph. "(I tried to) be patient, attack but still read the defense. We made some tough shots."
Dallas (25-30) led 90-87 midway through the fourth quarter but visiting Los Angeles nosed ahead with a seven-nil run led by Bryant and Steve Nash who finished with 20 points.
The victory was the third straight for Los Angeles (28-29) who moved within 2-1/2 games of a Western Conference playoff spot that Bryant has guaranteed the team will secure.
The Mavericks, 10th in the West, are also battling for a spot and Dirk Nowitzki put up 30 points and 13 rebounds.
Cuban's comments centered around the NBA's "amnesty clause," which allows a team to release a player and avoid paying taxes on their salary.
The Mavericks owner has said that his suggestion was just hypothetical, while the Lakers released a statement saying such talk was "inappropriate."
Bryant silenced all talk in the fourth where he made three straight difficult jump shots to leave the Dallas crowd murmuring.
Bryant and Nash combined for 11 of the last 12 Lakers' points to make up for a quiet day from Dwight Howard who battled foul trouble and had nine points and 13 rebounds.
Bryant was following up a 40-point game in Friday's win against Portland.
"That's why he's Kobe Bryant," said Lakers coach Mike D'Antoni. "When he puts his mind to something, for the last 17 years he's been able to accomplish it."  
Most Popular
Highlights
What's Hot