Distance runner, 101, shines in last race
A 101-year-old Sikh believed to be the world's oldest distance runner retired on Sunday after ending his last race in Hong Kong on a high, describing it as one of the "happiest days" of his long life.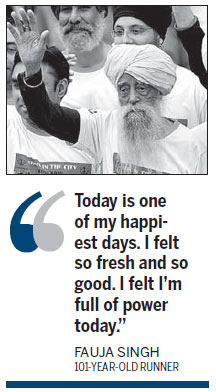 Fauja Singh, nicknamed the "Turbaned Tornado", finished the 10-kilometer run at the Hong Kong Marathon in 1 hr, 32 min, 28 sec - half a minute faster than at the same event last year.
"Today is one of my happiest days," the Indian-born British national, who only speaks Punjabi, said through his interpreter after he crossed the finish line with a broad smile and waving the Hong Kong flag.
"I felt so fresh and so good. I felt I'm full of power today. I will remember this day and I will miss it, but I will not stop running for charity," said Singh, who was mobbed by supporters when he completed his final competitive event, weeks before he turns 102 on April 1.
The centenarian, a farmer in his home state of Punjab before settling in England, became an international sensation and made headlines worldwide after he took up the sport at the ripe age of 89.
He has since completed nine 42-kilometer marathons in London, Toronto and New York. His best time was in Toronto, where he clocked 5 hr, 40 min, 4 sec.
The great-great-grandfather has said that while he is quitting competitive events, he will not stop running for personal fitness.
In Hong Kong on Sunday he ran with 100 supporters from a community group "Sikhs in the City", forming a group of 101 to mark his age.
Group member Karamjit Singh said the runner was in top form throughout on a breezy and slightly overcast morning in the southern Chinese city.
"Apart from a toilet break at about 6 km into the run and at one point he nearly slipped due to wet ground, he did not stop, he just kept on going," Karamjit, a nurse who lives in Hong Kong, said.
(China Daily 02/25/2013 page23)
Most Popular
Highlights
What's Hot