Poulter stunned by snowball fight
Ian Poulter had never seen anything quite like it on a golf course, and being hit with a snowball hurled by a fellow player summed up a bizarre day at the WGC-Accenture Match Play Championship on Wednesday.
Champion here in 2010, Poulter was 3-up on fellow Briton Steven Gallacher after 12 holes in their first-round match when play was abandoned due to a blanket of snow at Dove Mountain.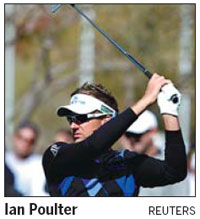 "It's been a few years since I've seen snow to be honest with you," Poulter said with a smile before making his way back to his hotel.
"Have a few weeks off at Christmas, relax and come back. This kind of makes it feel very Christmasy all of a sudden. It's bizarre, pretty amazing. Two inches of snow, maybe more. Incredible."
Poulter was amused to watch several caddies throw snowballs at one another before he was on the receiving end of one chucked by Swede Peter Hanson, who had not yet started his first-round match.
"I'm like an elephant; I will not forget," Poulter said while promising to seek revenge against Hanson. "I can't tell you what they will be, but there'll definitely be something. Revenge is sweet."
Poulter, who beat fellow Englishman Paul Casey 4&2 in the 2010 Match Play final to claim his first World Golf Championships title, was stunned by how quickly the weather changed on Wednesday.
"It's absolutely remarkable to think one minute we're playing golf, albeit it's a little cool, and then within a space of 25 minutes, it turns from playable to cold drizzle to sleet and to snow," the 37-year-old said.
"And within an hour and a half of all that starting, you've got two inches of snow on the ground. It's just bizarre."
Most Popular
Highlights
What's Hot