MOSCOW - Jelena Jankovic steered Serbia into their first Fed Cup final when she thrashed Svetlana Kuznetsova 6-1 6-4 in the second reverse singles on Sunday.
Jankovic's win gave the visitors an insurmountable 3-1 lead against Russia in their semi-final, played on a red clay court laid on top of the ice rink at Moscow's Megasport arena.
Earlier, Ana Ivanovic dispatched Anastasia Pavlyuchenkova 3-6 6-0 6-3 to put the Serbs ahead 2-1.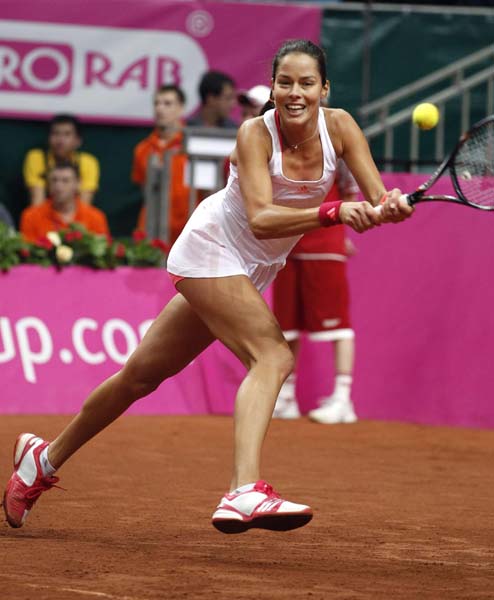 Serbia's Ana Ivanovic hits a return to Russia's Anastasia Pavlyuchenkova during their semifinal match at the Fed Cup tennis tournament in Moscow April 22, 2012.[Photo/Agencies]
"I still cannot believe that we are in the Fed Cup final," an emotional Jankovic told reporters.
"I well remember the times when we were still playing in the lower divisions and were only dreaming of playing for the Fed Cup trophy," said the former world number one.
"I had felt quite a lot of pressure before this match but was able to overcome it and tried to play my game. Svetlana is a great player and is always dangerous on any surface but I just kept my concentration at all times."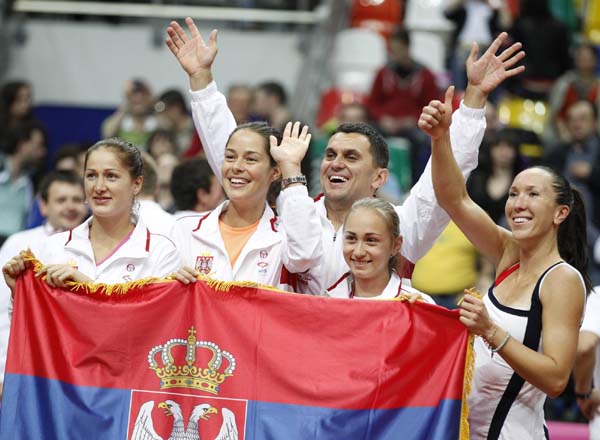 Serbia's (L-R) Bojana Jovanovski, Ana Ivanovic, team captain Dejan Vranes, Aleksandra Krunic and Jelena Jankovic pose for a picture as they celebrate their victory over Russia in their semi-final match at the Fed Cup tennis tournament in Moscow April 22, 2012.[Photo/Agencies]
In the November final, Serbia will face last year's winners Czech Republic, who beat Italy 4-1 in the other semi-final.
Looking ahead to the final Jankovic said: "It's going to be another tough tie. The Czechs have a great team, but I think after today's victory we are capable of beating anyone now."
Two-time grand slam winner Kuznetsova struggled to explain her sub-par performance.
"I'm still trying to figure out what went wrong today," said the former world number two, who has slipped to number 27 after struggling to regain her top form this season.
"One thing's for sure, my opponent played very good today."
The Russian duo of Pavlyuchenkova and Elena Vesnina then beat Bojana Jovanovski and Aleksandra Krunic 6-4 6-0 in the dead doubles rubber to make the final score 3-2.
The two teams were tied at 1-1 after Saturday's singles matches when Jankovic beat Pavlyuchenkova 6-4 6-3 before Kuznetsova levelled the two-day tie by outlasting Ivanovic 6-2 2-6 6-3.