Robles stripped of 110m hurdles gold
Updated: 2011-08-29 21:26
By Lei Lei (chinadaily.com.cn/Xinhua)
| | | | | | | | | | | |
| --- | --- | --- | --- | --- | --- | --- | --- | --- | --- | --- |
|   | | Comments() | | Print | | Mail | | Large Medium  Small | 分享按钮 | 0 |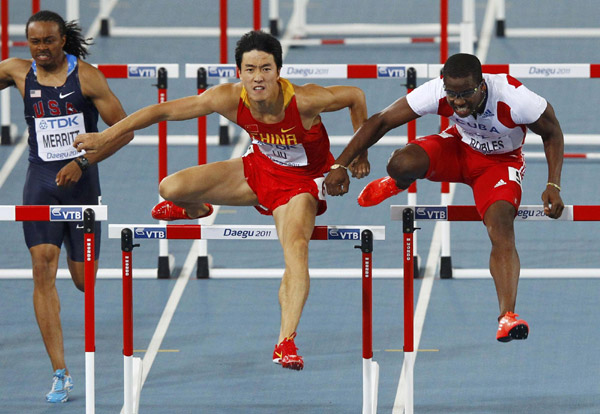 Dayron Robles of Cuba (R) makes contact with Liu Xiang of China (C) as they go over the final hurdle in the men's 110 metres hurdle final at the IAAF World Athletics Championships in Daegu August 29, 2011. [Photo/Agencies]
DAEGU, South Korea - Dayron Robles was disqualified from the 110 metres hurdles final at the world championships in Daegu and stripped of his gold medal on Monday after bumping China's Liu Xiang in a physical track tussle.
In the breath-taking final, Robles and Chinese legend Liu Xiang were neighbors in Lane 5 and Lane 6, respectively.
After the starting gun fire, the two world's fastest-ever hurdlers were almost running neck to neck in the first eight hurdles and took the lead.
In the ninth hurdle, however, Robles' right trailing hand was seen hitting on Liu's left hand. As a result, Liu's rhythm was disturbed and his blistering pace slowed down.
Right before the tenth and final hurdle, Robles made further hand contact with Liu, who tripped on the hurdle.
Huge screens at the Daegu stadium repeatedly replayed the two hurdlers' contacts from various angles.
An official with the IAAF told reporters that the Daegu track referee council has decided to disqualify Robbles' mark and it was unknown whether the Cuban team would appeal.
Before the disqualification, Robles won in 13.14 seconds, followed by Jason Richardson from the United States with 13.16 seconds. Liu Xiang finished third in 13.27 seconds.
According to the IAAF rule of 163.2, any competing athlete who jostles or obstructs another athlete, so as to impede his progress, shall be liable to disqualification from that event.
It also says the Referee shall have the authority to order the race to be reheld excluding any disqualified athlete. And yet such a scenario seems to be quite unlikely.
Robles, in a televised interview, admitted that he didn't like his technique in Monday night's game and he was tangling with Liu over the last hurdle.
Liu said he "felt like someone touched my elbow and I lost my balance for a while but then I managed to recover".
"It happens all the time in the competitions. But this time, in the final of world championships, it was kind of different. I am OK with everything that happened today and this is a legacy to me. Robles prepared well. I tried my best (and got) no regret," Liu said.
A member of Liu's coaching team had told Xinhua right after the game that the Chinese Athletics Association might appeal for the disruption. Meanwhile, Liu told reporters that he didn't care much about the color of the medal.
Daegu on Monday night witnessed the first Championship clash of hurdling's current big three -- Robles, Liu Xiang and 2011's fastest man David Oliver of the United States.
They are also the three fastest-ever men in the history of the event -- Robles, 12.87 seconds, Liu 12.88, Oliver 12.89. The 110m hurdles final tonight was their first meeting in a final at a global championships.
Adding to this hotly-contested final is rising hurdler Richardson. The 25-year-old took an easy and clear win in the semifinals in 13.11 seconds.
Oliver, without a good shape on Monday night, finished fourth in 13.44 seconds, after Robles was disqualified.