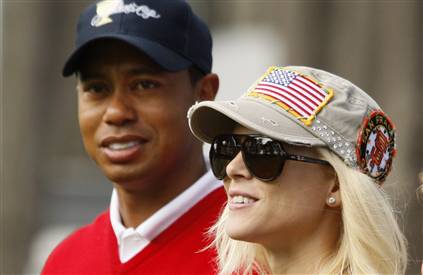 Pro golfer Tiger Woods and his wife Elin Nordegren are headed for an imminent split that will likely be permanent, according to sources who are familiar with the couple's situation.
Recent photos taken of Elin without her wedding and engagement rings were meant to be a public message that the breakup is coming sooner rather than later.
"She knew what she was doing when she stepped out and pumped gas without her wedding rings," said one source. "There are plenty of people who would have filled the tank for her so she wouldn't even have to be photographed. She chose not to go down that road. Moreover, she chose to make it clear those rings were not on her. No hands shoved in pockets, no hiding. Remember, she's still one half of a couple that has had, up until recently, a most-crafted image. She knows what she's doing."
She won't be one half of that couple for long, according to another source.
"She and Tiger are living separately now, but she'll be making this split very open and official right after Christmas," said that source.
Another source said that Tiger has a long road ahead if he wants forgiveness. "Elin is not going to be one of these 'stand by her man' women," the source said. "She's a strong woman, this is beyond embarrassing, and she has a daughter and son she has to think about, who will know about this one day. Tiger's got a long way to go to make things right, and have the kind of family he was fond of talking about. He's going to have to play by Elin's rules now. Forgiveness isn't exactly around the corner."