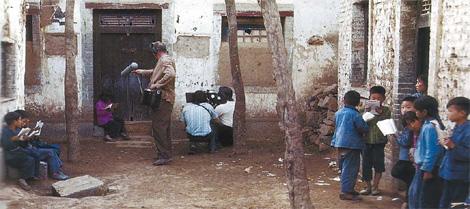 Michelangelo Antonioni and his crew filming in a Henan province village for his documentary Chung Kuo in 1972.
It's 1972 and a man rides his bicycle down a Beijing street, takes his hands off the handlebars and starts practicing tai chi. In another scene, on another day, in a Henan province village, a group of primary school students read their textbooks out loud, with blank expressions, as if they do not understand the characters.
To most Chinese people today the images seem innocent enough, but when the late Italian director Michelangelo Antonioni (1912-2007) released his documentary film Chung Kuo (China) these and similar scenes caused an intense political reaction.

According to an editorial in the People's Daily in 1974, Antonioni had a hidden agenda when he filmed people sitting in teahouses, an old woman's bound feet, or people blowing their noses and going to the latrine.
"This 3.5-hour-long film does not reflect new things, the new spirit and face of our great Motherland, but lumps together a large number of viciously distorted shots to attack Chinese leaders, smear socialist New China, slander China's Great Proletarian Cultural Revolution and insult the Chinese people. Any Chinese person with national pride cannot but be greatly angered by seeing this film," says the editorial, titled A Vicious Motive, Despicable Tricks - A Criticism of M. Antonioni's Anti-China Film, China.
To a new generation of Chinese these criticisms seem excessive.
"When I watched the film, I didn't feel the shots were meant to damage China's image," says Ning Biaoxue, a magazine editor from Guangzhou, who was born in 1980. "To me that was the reality of China at that time. I think the film even beautified China to some degree as many scenes were shot by arrangement with the Chinese government - but that was also a reality."
Ning is interested in foreign documentary films about China because of the different perspectives they offer. He cites Dutch director Joris Ivens' How Yukong Moved the Mountain, as another example.