"To some degree my status is like theirs. As foreigners, China was unknown to them, while China in the early 1980s and before is also unfamiliar to me," he says. "The bewilderment of Antonioni is also my bewilderment: Why were Chinese people and society like that?"
In the eyes of 43-year-old Chinese documentary filmmaker Liu Haiping, Antonioni has left a great legacy with Chung Kuo, which presented China in a way that is neutral and human.
"Chung Kuo impressed me so much that I decided to make a film about Antonioni, after I had seen an excerpt of just a few minutes," he says.
Since 2004, Liu has been filming China Is Far AwayAntonioni and China, for which he interviewed Antonioni at his home in Rome, as well as ordinary Chinese people.
A shortened version of Liu's film has been shown on CCTV, and the complete version was recently screened at the Broadband International Cineplex, in Shanghai.
"The enthusiasm of the audience shows a growing interest among Chinese people in Antonioni's Chung Kuo, which tracked a special period in Chinese history," Liu says.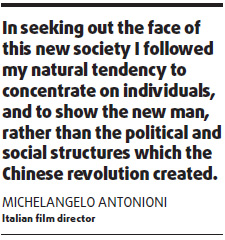 When Antonioni was shooting Chung Kuo, China had been practically closed to the outside world for more than two decades. The situation was about to change, as China established formal diplomatic relations with Italy in 1970, and became a member of the United Nations the next year. In 1972, United States President Richard Nixon visited China.
"At that time, the 'cultural revolution' (1966-76) had already been going on for quite some years. Many people were tired of political conflicts and longed for normality," says Luo Jinbiao, who was involved in the arrangements for Antonioni's trip to China. At the time, 1972, he was an attach in the cultural section of the Chinese Embassy in Rome.
"Our invitation to Antonioni to make a documentary about China was an attempt, in the cultural sphere, to open up to the world."