Two Shanghai agencies become first TISCs in China
Two Shanghai agencies, Shanghai Jiao Tong University and the Shanghai Patent and Trademark Law Office, were named among the first Technology and Innovation Support Centers (TISCs) by the National Intellectual Property Administration (CNIPA) and World Intellectual Property Organization (WIPO) at the opening ceremony of national intellectual property week in Beijing on April 24.
Seven agencies in China, including Shanghai Jiao Tong University, the Shanghai Patent and Trademark Law Office, Beijing East Linden Science and Technology Co Ltd, Fengtai Science Park, Tianjin University, Jiangsu patent information center and Nanjing University of Science and Technology, have been approved by CNIPA and WIPO in that capacity since October, 2018.
TISCs is a project following the development agenda of WIPO, which is aimed at assisting developing countries to improve their technical information retrieval capabilities for intellectual property rights and innovative users.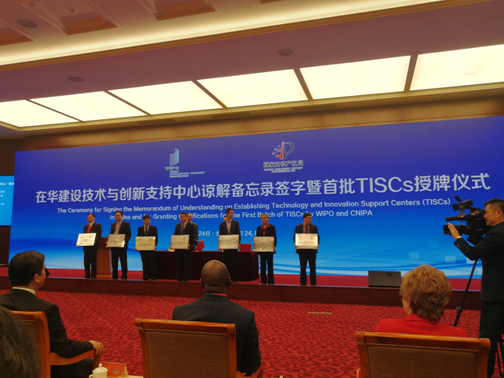 The CNIPA and WIPO award the first TISCs at the opening ceremony of the national intellectual property week in Beijing on April 24, 2019. [Photo/zscq.eastday.com]