Shanghai World Financial Center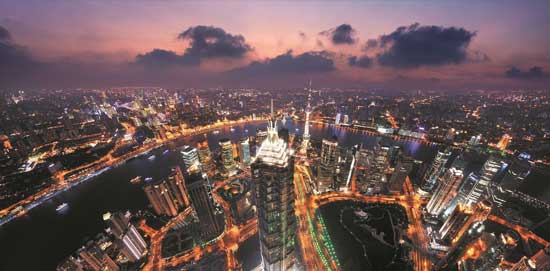 Located in the center of Lujiazui, once known as the "Tallest High-rise in the World", Shanghai World Financial Central Tower is 492 meters high, with a total of 101 floors and a total floor area of 381,600 square meters. The building's design was inspired by ancient Chinese artifacts such as jade rings and jade congs.
Super high-rise tourist facilities are provided at the 94th floor, the 97th floor and the 100th floor respectively. The sightseeing deck at the 94th floor also hosts various exhibitions, as well as offering breathtaking views of the city. On the 97th floor, visitors can feel as if they are floating in midair and can't help touching the blue sky and white clouds through the open overhead windows. On the 100th deck, walking on the three transparent glass walkways, visitors will feel like they are hovering hundreds of meters above Shanghai.
Grade: AAAA
Address: No 100 Century Avenue, Pudong New Area, Shanghai
Tel: +86-21-58780101
Website: http://www.swfc-observatory.com/