Tongji University holds Intl forum on intellectual property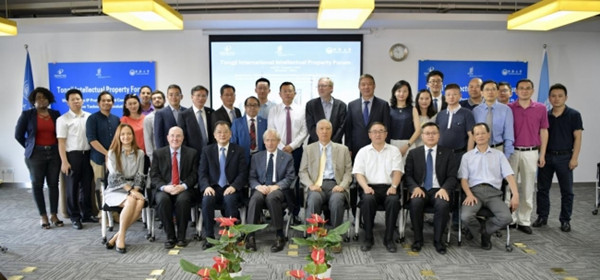 Attendees at the workshop pose for a photograph. [Photo/tongji.edu.cn]
A Workshop on IP Protection and Competition in the New Technology Revolution took place at Tongji University, Shanghai, on Aug 1.
With support from the World Intellectual Property Organization (WIPO) and the State Intellectual Property Office (SIPO), the forum was hosted by the Shanghai International College of Intellectual Property (SICIP) at Tongji University.
Joseph Bradley, head of the WIPO's Academic Institutions Program; Chen Hongbing, director of the WIPO China Office; Tian Lipu, president of the China's Intellectual Property Society; Zhang Bin, vice-president of the Shanghai High People's Court; Lei Xinghui, vice-chancellor of Tongji University attended the forum and delivered speeches.
Other attendees included scholars and legal practitioners from Max Planck Institute, University of Namur, Chinese Academy of Social Sciences, Texas A&M University, Shanghai Jiaotong University and Shanghai International College of Intellectual Property, as well as other students and teachers from the college.
Lei Xinghui, in his speech, said that SIPO was committed to developing high-level IP professionals that were of international standard. He expressed his hopes that solutions could be generated at the forum to deal with legal issues arising from a technical revolution in artificial intelligence, clean energy and big data.
Joseph Bradley positively commented on the cooperative program between WIPO and Tongji University, and vowed that WIPO would further enhance its cooperation with SICIP.
Chen Hongbing thought that China's capabilities for international dialogue on IP would be further enhanced with collective efforts made by the government, academic community, business and judicial cycles.
Zhang Bin noted that Shanghai Higher People's Court had established close partnership with SICIP, and would continue to strengthen efforts to combine legal practice with theoretical education.
Tian Lipu stressed that the new technology revolution posed great challenges to the current IP system and he believed that some useful advice would be put forth at the forum on the development of a global intellectual property protection system.
In the following academic seminar, scholars in attendance delivered reports on some of the most-discussed topics in current global IP legal systems, including issues related to climate change, artificial intelligence and big data.