PPP research center launched at UIBE
The Belt and Road PPP Research Center was inaugurated in Beijing on Oct 27. The research body established at the University of International Business and Economics is backed by ministries, investment banks, and leading economic and business universities.
The center is the first body in China to conduct research in the field of public-private partnerships, which have become a key way of financing infrastructure. The center will focus on database construction, overseas investment cooperation, academic research, and white paper publications, according to Wang Jiaqiong, president of UIBE.
The center is a response to the growing demand for public private partnerships to build and operate infrastructure as part of the Belt and Road Initiative.
"The outlook for international cooperation is rosy under the country's Belt and Road Initiative and the combination of government and private funds is expected to inject new impetus into the market," said Jiao Xiaoping, director of the PPP center, which is under the Ministry of Finance.
He expects the UIBE's new research body to play a key role as a think tank helping more Chinese companies to "go global".
The Chinese Academy of International Trade and Economic Cooperation under the Ministry of Commerce also announced its support for the new center. It expects the center to become the country's leading Belt and Road research and consultation platform for public-private partnerships.
China Development Bank and the Export and Import Bank of China expressed their congratulations to the founding of the center and promised to work closely with the center to help boost China's Belt and Road Initiative.
Wu Weixing, dean of the Banking and Finance School of the UIBE and head of the center, announced a series of PPP case studies and projects, covering water infrastructure, urban facilities, traffic, public services and environmental protection, during a forum held concurrently to celebrate the founding of the center.
A number of the country's leading finance officials and foreign diplomats took part in the forum.
Zhou Wenzhong, secretary general of Bo'ao Forum, the country's leading economic forum the global collaboration, said the Belt and Road Initiative is a kind of experiment in using Chinese wisdom and experience to promote global economic growth, and he believes public-private partnerships could become the driving force for bringing governments, private enterprises and social funds together to help boost interconnectivity.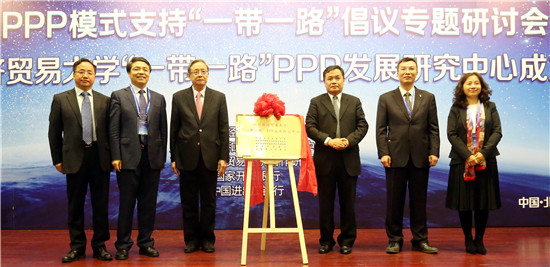 The Belt and Road PPP Research Center is inaugurated in Beijing on Oct 27.  [Photo provided to China Daily]
yangcheng@chinadaily.com.cn