Foreign media visit Yantai's Jereh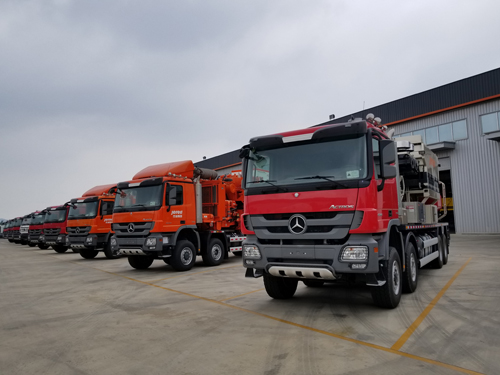 Trucks equipped with Jerah oilfield equipment. [Photo/China Daily]
A group of journalists from Asian media organizations paid a visit to Yantai Jereh Oilfield Services Group Co Ltd (Jereh) on July 6, in order to learn more about the progress of the city's oilfield equipment manufacturing industry.
The journalists, jointly invited by Shandong Provincial Government and China Daily, were taking part in a seven-day fact-finding trip to report on the latest developments in Shandong province.
Jereh, as a comprehensive listed enterprise, provides integrated solutions for the oil and gas drilling industry, and is involved in oil well construction, gas services, transportation, CNG and LNG filling equipment, and oilfield engineering technology, as well as the general design of oil and gas engineering services.
Providing more than 600 sets of large-scale oilfield equipment and four series of related products, Jereh has become the world's largest manufacturer of oilfield production equipment.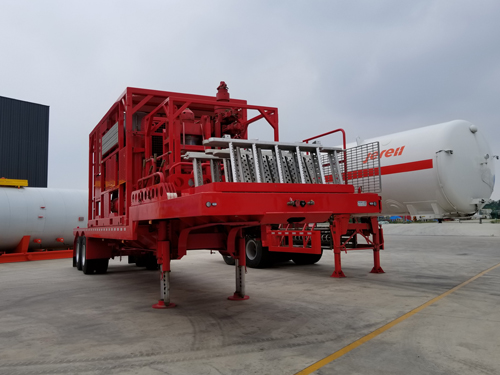 Trucks equipped with Jerah oilfield equipment on display. [Photo/China Daily]
Jereh also has the world's largest cement manufacturing center, and its sales of fracturing equipment, coiled tubing equipment, and liquid nitrogen pump equipment rank first in China.
Serik Korzhumbayev, editor-in-chief of Kazakhstan's Delovoy Kazakhstan, expressed his view that cooperation between Jereh and countries along the Belt and Road Initiative has become a highlight of international production cooperation.
In 2014, Jereh launched its first 4500 pattern fracturing truck –– the world's largest stand-alone power fracturing truck. The vehicle was regarded as having redefined fracturing equipment. Its release not only marked a new era for Chinese oilfield turbines, but also made China the third country after the US and Russia to produce turbine equipment.