2017's NEA returns in March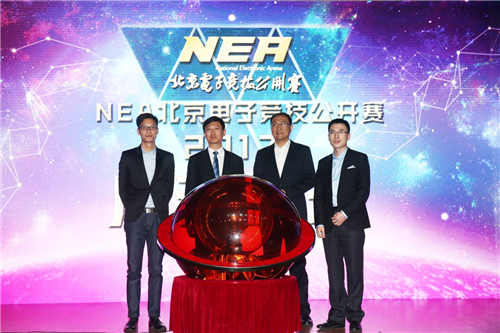 The launch ceremony of 2017 Beijing National Electronic Arena (NEA) was held at the China Youth University of Political Studies in Beijing on Feb 27. [Photo provided to chinadaily.com.cn]
Registration for the 2017 Beijing National Electronic Arena (NEA) will kick off among nine divisions around the world on Mar 5.
Executive secretary of the NEA Organizing Committee Li Wenliang announced the event will cover many famous e-sports games, such as Overwatch, League of Legends, DOTA2 and HearthStone:Heroes Of Warcraft at the launch 2017 NEA launch ceremony on Feb 27 .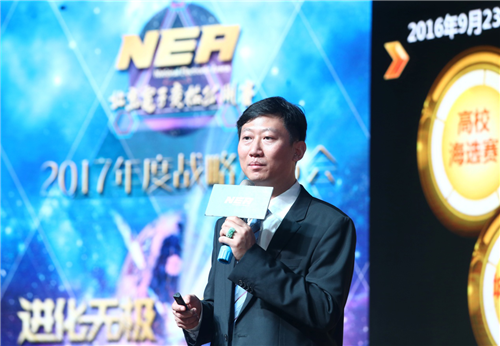 Li Wenliang, executive secretary of the NEA Organizing Committee, gives a speech at the ceremony. [Photo provided to chinadaily.com.cn]
Li noted that alongside competitions, the 2017 NEA also plans to jointly set up a research institute with colleges and universities on the development of China's electronic arenas. The Research Institute of NEA Development will set up jointly by the organizer and China Youth University of Political Studies (CYUPS).
As the e-sports industry rapidly develops, China faces many problems, particularly lack of research. "Our theoretical research of e-sport lags behind the rest of the world," Li said. "We should give priority to the relations between e-sport games and the development of teenagers," he added.
This year will also see a more diversified industrial layout, including e-sport exhibitions, entrepreneurship and pan-entertainment, will be carried out this year to support young entrepreneurs in the industry.
The organizer, emphasizing the principles of equality and publicity, plans to run various projects in both online and offline competitions. The latter will cover over 10 million undergraduates from more than 1,000 colleges and universities from both domestic and overseas cities, such as Beijing, Chongqing and cities in North America and Europe. The final battle will kick off in Beijing in November.
Deputy Party Secretary of CYUPS Zhang Shuhui noted that, "The research institute will combine national policies and international cases via studies to put forward solutions to specific problems shown in government decision-making, industry norms, cultural orientation and Internet addiction intervention."
In the future, a communication platform will be built to solve youth problems caused by e-sports games, which are the most influential form of recreation and leisure among teenagers.
Manufacturers, investors and entrepreneurs will also be served via white papers and seminars.
At the launch ceremony, members of the 2017 NEA signed strategic cooperation agreements with over 40 companies, including Beijing Beiao Group, Bundstar Media and Ruifeng Culture.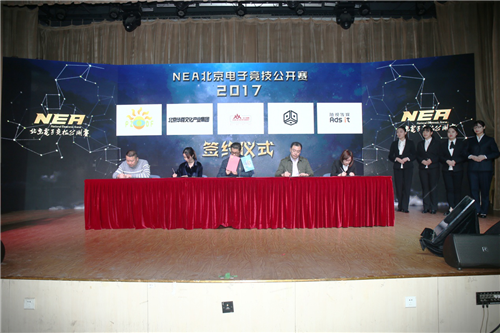 2017 NEA signing of strategic cooperation agreements with over 40 companies at the ceremony. [Photo provided to chinadaily.com.cn]
NEA, founded in 2016, attracted over 20 thousands player to sign up last year. The final battle of 2016 NEA took place in the Bird's Nest and had an online audience of over 6 million people.