Twin ports: Key northeastern belt, road junction gets connected
Changchun's plan to build two internationally integrated ports in its new area will accelerate Northeast China's structural economic upgrade and promote international trade with Eurasia.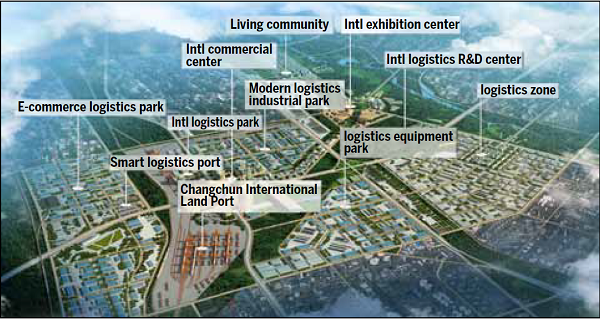 An artistic rendering of the international land port to be set up in Changchun New Area. Provided to China Daily
As capital of Jilin province, Changchun is a key junction on the China-Mongolia-Russia economic corridor of the Belt and Road Initiative.
The construction of two ports — an airport and an inland port — will build Changchun into an international logistics hub.
The plan is central to the Changchun government's commitment to establishing its new area and revitalizing Northeast China's old industrial economy.
With a planned area of 499 square kilometers, Changchun New Area will help to accelerate construction related to the Belt and Road Initiative and deepen regional cooperation with neighboring countries, experts said.
Changchun will break with the old model in developing its new area.
The city is taking advantage of its important location — at the center of the new Eurasian Land Bridge — by constructing twin ports to develop a sophisticated transport system that will incorporate air routes, railways and highways.
Such an integrated transport system will improve logistics, in turn leading to the development of the city and its industries, all of which contribute to accelerating overall economic growth. It will help Changchun to integrate with European and Asian markets and reduce logistics costs.
In the near future, Changchun will achieve regional advantages across Europe, Japan, Russia and the Republic of Korea.
An international airport
The new international airport will be based on the redevelopment of the existing Changchun Longjia International Airport and the Changchun Airport Economic Development Zone, according to the plans.
The new area has signed an agreement with Guangdong Longhao Aviation Group to rework and expand Longjia Airport, and to explore an airport cargo clearance system.
The city government is transforming the airport into an integrated transportation hub that can link airlines, intercity railroads, subways and public roads.
It is also looking to expand its air route network, with more connections and 72-hour visa-free transit via Longjia airport.
Meanwhile, other plans in the pipeline include cooperation agreements for customs clearance systems with major domestic customs houses and promotion of cross-border e-commerce trade.
Through opening new passenger and cargo routes that will connect to Russia and northern Europe, Longjia airport will increase its transport capacity and become an airline logistics hub in Northeast Asia.
The airport will be multifunctional, incorporating an e-port center, a cross-border e-commerce center, an international logistics information platform and an express goods customs supervision center.