CIOMP produces local, loyal graduates for new area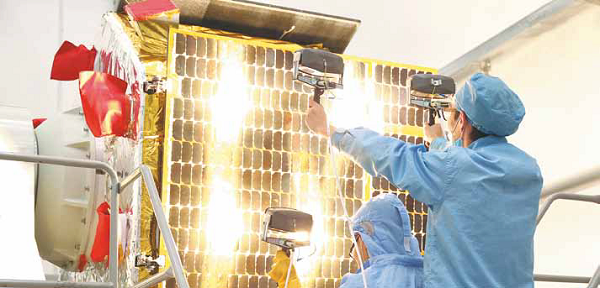 Engineers at Chang Guang Satellite Technology, where China's first self-made, high-resolution commercial satellite, the JILIN-1, is launched in October 2015. Changchun New Area boasts a number of leading high-tech companies. Liu Ruifeng / For China Daily
China's first self-made, high-resolution commercial satellite, the JILIN-1, was launched in October 2015 by Chang Guang Satellite Technology located in Changchun New Area. It is the first satellite to be named after a province.
"In the past, satellites were used only for military and government purposes. The new commercial mode will significantly improve the flexibility of aerospace information sharing and reduce the costs of research and development of satellites," said Xuan Ming, president of Chang Guang Satellite Technology.
As the former president of the Changchun Institute of Optics, Fine Mechanics and Physics, under the Chinese Academy of Sciences, Xuan put forward his ideas for satellite research in 2012. Two years later, Chang Guang Satellite Technology was founded to undertake the JILIN-1 Satellite networking project.
"Northeast China has been regarded as a less developed area for many years. At first, they didn't believe we were capable of undertaking the project. Someone even asked me: 'How could it be possible to develop satellites in a place that only grows corn?' Eventually, we proved them wrong," Xuan said.
He said the city has great potential to develop high-tech industries thanks to its rich human resources and the scientific strength of Jilin University and three institutes under the Chinese Academy of Sciences.
"The satellite is like a camera flying in orbit," Xuan said. "Since Changchun Institute of Optics, Fine Mechanics and Physics under Chinese Academy of Sciences, also known as CIOMP, has a long history of studying optical instruments, I believe we have the capacity to complete the project."
The local government has provided support to the company since the day it was founded.
"To research and develop satellites, we needed a high office building with consistent temperature, humidity and cleanliness. The local government built this specially designed building to meet our demands."
According to Xuan, the company plans tolaunch 30 satellites every year for a total of 138 satellites expected to be in orbit by 2030. An online trading platform for aerospace information is also under construction in the area. The platform will allow people from around the world to buy information via photos taken and transmitted by their satellites.
"Since Changchun has rich soil for the development of high-tech industries, we should try to innovate in fields where no one did before. I see a bright future for the city," said Xuan. The company commenced construction of the Aerospace Information Industrial Park in March, where the whole industrial chain, from R&D of satellites to information processing, will be included. The first phase of the park is expected to be completed by the end of 2017.