Manufacturing city joins innovation and industry
Changchun New Area takes efforts to promote innovation and entrepreneurship.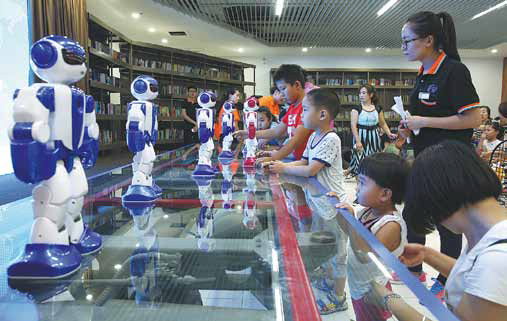 Robots attract child visitors at the Lin Maker Carnival run by Jilin Lintian Yuanda Image Group. Liu Ruifeng / For China Daily
"In the past, fewer than 9 percent of the scientific achievements in Changchun could be commercialized in the market, which is a great pity. I thought the scientific strength of the city could better benefit the future," said Guo Li, chairman of the board of Changchun Beihu Science Park Development Co.
Guo said the park, constructed by the Changchun government and Beijing Science and Technology Park Construction, was inaugurated in 2014.
Ever since the opening of the park, Changchun New Area launched a series of policies to encourage enterprises and scientific institutions to settle in the park, including rent subsidies, tax reduction and bonuses for IP and technological innovation, said Guo.
"We are determined to establish links between scientific projects and related enterprises and promote innovation within the traditional industries of Changchun."
By November 2016, more than 140 technological companies, startups and science and technological service platforms settled in the park.
Most of the companies focus on biological medicine, electronic information and new materials.
"We target at the competitive industries in Changchun," Guo said.
He said the park hopes to restructure the industries there and helps businesses to engage in cooperation with foreign countries in Changchun New Area.
"Officials from Changchun and leaders of companies in the park were invited to join a cooperative high-tech project with an Israeli team from June to August last year through video conference," Guo said. "We expect them to learn about new business models and innovative thinking from Israel."
He said construction of hotels, shopping malls and apartments in the park are expected to be completed in 2020.
Deputy CEO of Taihua Lightning Protection Wang Chuanwei said: "We were attracted by the park's preferential measures in renting workspaces, the infrastructure and the potential of Changchun New Area."