After decades of hitting the right note, Chen Deran is still striving for excellence
Belting out a karaoke song at a KTV hall is a popular way for under-pressure white-collar workers in China to have fun and blow off steam. But Chen Deran makes sure he is never among them.
Forty-year-old Chen, a senior piano tuner with the Guangzhou Pearl River Piano Group, has given the rowdy venues a wide berth since he became a tuner in 1995.
"When I did visit a KTV, or karaoke bar, many years ago, the loud noise continued to ring in my ears for two to three days," Chen said.
Instead, he does everything he can to protect his sensitive hearing, and has made a point of keeping away from not only KTVs but all raucous public venues for more than 20 years. He said his hearing is still crucial if he is going to do his job well, despite the range of advanced equipment available these days to help a piano tuner in his work.
Chen started on the road to excellence in his profession when he became a staffer at the piano manufacturer in 1993 after his father retired from the company. At the time, his dad had been a senior piano quality controller.
Chen started out by working in each of the major departments at the factory until he knew every production procedure for every part of the instrument.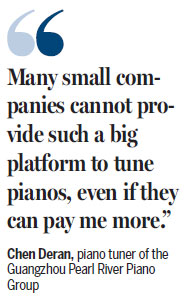 After two years, he started learning the art of piano tuning.
He said even the best piano can drift out of tune because of a range of reasons and it's crucial that the instrument has a perfect sound, especially if a pianist is performing before an audience.
The quality of the tone can be affected when a piano is moved or if the temperature changes, for example because the air conditioning has been switched on, Chen said.
And he also has to consider the piano, not as a stand-alone instrument but in terms of the pianist who will play it and the player's preferred style. Some pianists like their pianos to produce a clear voice while others like a soft voice.
The exacting work takes him around the world and he has helped famous pianists, including Lang Lang and Li Yundi, by tuning their pianos ahead of concerts.
Chen has had times when he has been so busy he has tuned seven or eight pianos in a day and suffered from bleeding fingers because of the excessive work.
"But I really like the job," he said.
"Sometimes, I stay in the tuning room for several days tuning the pianos inside and, after I have successfully tuned the pianos, I play them, with the door closed. It is really enjoyable."
Chen estimates he has tuned more than 150,000 pianos since becoming a tuner. His wife, Li Jianping, says her husband is rarely at home.
"Chen can tune all pianos of all brands and his clients are satisfied," she said proudly.
Hua Jing, one of Chen's colleagues, said Chen is a warmhearted and talented piano tuner and his work has been appreciated by many pianists, colleagues and peers.
"Chen still likes to tune pianos, even though he is a factory director who is responsible for production in the company," Hua said.
Having reached the top of his profession, Chen has been offered many better paid positions with rival companies. He has refused them all. "Many small companies cannot provide such a big platform to tune pianos, even if they can pay me more," Chen said.
Liao Xinqi contributed to this story.
Contact the writers at zhengcaixiong@chinadaily.com.cn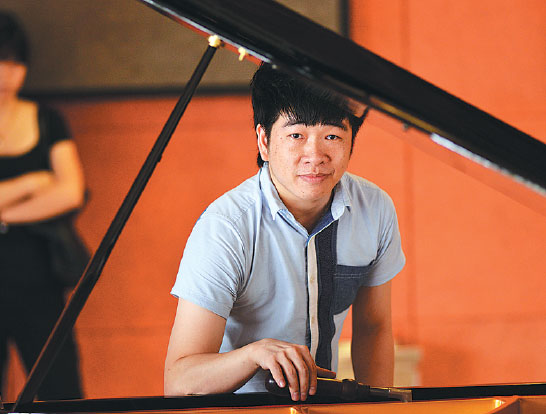 Chen Deran, a senior piano tuner with the Guangzhou Pearl River Piano Group, prepares to tune a piano in Guangzhou, Guangdong province. Provided To China Daily
(China Daily 07/18/2016 page7)