The town now boasts a sports gymnasium and a cultural complex. The gymnasium, sponsored by a company, hosted a China-Cuba national women's basketball match in May, which was the first national-level match held in a town.
Inside the cultural complex, villagers read and write, sing and dance, study and play.
Chai Genlong, a 55-year-old farmer from Beigang village of the township, has been involved in painting for less than 20 years. He usually puts traditional folk tales and his living environment into color.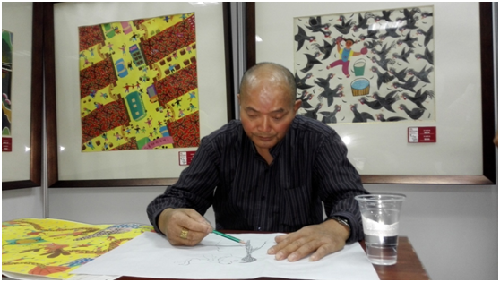 Chai Genlong, a farmer in Beigang village, Yaozhuang town of Zhejiang province, works on a draft painting in local a cultural complex on Sept 13, 2015. [Photos by Wen Zongduo]
Painting is the love of some women in the township. Several of their paintings were exhibited at the United Nations last year and others had been displayed at overseas shows as well.
Displaying his own paintings on dragons and the Grand Canal, Chai said: "I have a big family with several children, but I have abundant time of my own and I love painting." He also said he studied from professional artists invited to the town by the township to help them.
Dong said she also sends her mother, who has been living with her for years, to the cultural complex, especially at weekends. She herself would like to go back to her village miles with her husband to tend their peach garden.
After finding work in town, they are no longer farmers but still prefer to keep their allocated piece of land for their own likings. Their son is now at Hangzhou City College and sometimes comes to their assistance during holidays.
Yet their ordinary living is still a dream for millions of other farmers in central and western regions, where there are shortages in water and power supply, the local government revenues can hardly support large-scale renovations, and job opportunities in local companies are limited.
For Dong in Yaozhuang, one of her future concern includes moving her aged mother to the ground level rooms when she finds walking difficult.
And township head Jiang said, "We'll improve and make life easier for the residents."