Jiaxing, Zhejiang province: The lady in her 40s in a southern China town was all smiles while leading a group of strangers to her home.
Dong Yafang lives in an apartment building in Yaozhuang Town, Jiashan county of Zhejiang province. Her visitors were several journalists from across the country.
Her family of three is the owner of a whole unit of the building, with five apartments from the ground to the fifth floor, 460 square meters altogether. "They are smaller than my former village courtyard, but still comfortable and spacious enough," Dong said, "so I lease out my apartments on the fourth and fifth floor to migrant workers working in nearby factories."
Dong's family moved into the government-built new home from her village at the far end of the town in 2010. In order to save land for the town booming of industries, the township government encouraged houses of villagers in sparse areas to use their century-old village yard to live in town-based new residences.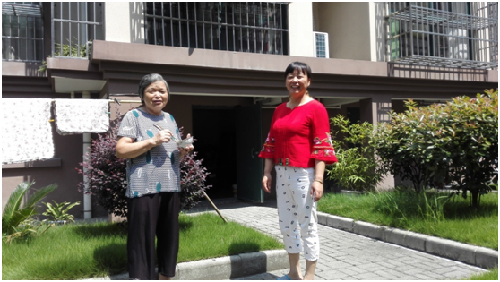 Dong Yafang and her mother in front of their unit of apartments in Yaozhuang Town, Zhejiang province on Sept 13, 2015. [Photo by Wen Zongduo]
Dong was among the first group of villagers who chose to follow the government's idea. Nearby are rows after rows of buildings looking similar to the one of her living, forming a community named as the 1st Taoyuan New Village, up till the Fifth Taoyuan New Village.
"Of course I'm satisfied with my living here," Dong said. "Life is easier here in the town."
Township head Jiang Xiaoping said over the years the local government has managed to renovate water, electricity, gas and transport facilities to reduce the living costs of residents as well as cultural facilities. Sewage plant starts operation, roads are expanded, schools and elderly care houses built.
"The cooking gas is piped into the apartments," Dong said. "The trouble of carrying gas tanks in and out is forever gone; the tap water is there all the time and there is no worry of power cuts. Even the garbage is at the disposal of special collectors."
The town's program is part of a nationwide experiment on building the beautiful countryside which forms the core of Beautiful China dreams raised by President Xi Jinping in 2013. Xi served as the Party leader of Zhejiang province between 2003 and 2007, making public his idea that "mounts of gold and silver cannot match green water and mountains."
Yaozhuang Township, one of the top 100 rich townships in the country, was chosen by Zhejiang provincial government as one of those to try out "beautiful countryside" projects.
There are no specific statistical criteria for what amount to the beautiful countryside, Jiang said. But, "my priority of work here is beautiful and ecological environment, and there should be complete facilities for livelihood, such as roads, those for power supply and cultural activities."