Mark Ao and his five partners moved into Inno Valley HQ - a newly launched startup hub in Zhuhai's Hengqin New Area - on the very day it opened, June 29.
What attracted the six entrepreneurs from Macao was not the financial support offered by the entrepreneurial base, but an atmosphere that Ao believes is favorable to inspiring new thoughts and ideas.
"Entrepreneurs can work together and brainstorm new ideas at Inno Valley HQ. You may even find a new partner here," said the 31-year-old Tsinghua University graduate of 2009.
As part of efforts to deepen cooperation between the Chinese mainland and Macao and diversify the economy of the SAR, the Inno Valley HQ project, spread over 128,105 square meters, provides a platform for young entrepreneurs from Macao to realize their business dreams. Young business owners will be able to enjoy free use of offices for a year, and a 2-billion-yuan ($322.3 million) special fund has been allocated to help the startups grow.
The first 30 teams from Macao, comprising 13 Internet companies, seven from the cultural and creative industry, six high-tech firms, three cross-border e-commerce service providers and one education-related firm, have already started operations.
Niu Jing, director of the Hengqin New Area Administrative Committee, said the special economic zone is committed to promoting deeper exchanges and integration between Guangdong province and Hong Kong and Macao in a range of areas, including business, education and culture.
"In the industry integration aspect, in particular, Hengqin New Area has been actively creating conditions for enterprises and youths from the two SARs, providing support for young people from the two regions to start business here and promoting the diversified development of the Macao economy," Niu said.
For Ao, the best help to entrepreneurial teams "is not offering them fish, but giving them fishing poles". "Giving only money is not enough. What we need are supporting services that can facilitate our business," he explained.
Ao's team is working on an online platform catering to those interested in becoming chain restaurant franchisees.
The platform, called Kai Dian Mall, acts as a bridge between investors and catering enterprises, offering customers one-stop services ranging from finding a suitable chain to restaurant design and decoration, and to operation and promotion of the brand, Ao explained.
Rather than starting up their business in Macao, Ao is tapping into the mainland market directly because he sees it as a place where the entrepreneurial environment is more vibrant.
"In Macao, startups mainly focus on traditional industries. Entrepreneurs may open a car-washing shop or a caf. However, if we talk about modern industries like the Internet, it is the mainland that takes the lead," he noted.
The Macao government is also doing its part to support local entrepreneurs. In August 2013, the SAR government launched a Young Entrepreneurs Aid Scheme under which eligible entrepreneurs can receive a maximum of 300,000 Macao patacas (MOP) ($37,557) in interest-free loans repayable within eight years.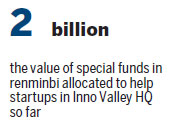 By the end of last year, the number of applications for the program had reached 559, of which 365 were approved by the government, according to Macao Economic Services, a government department. About 87.5 million MOP were approved to help budding entrepreneurs.
"We give them support not only to help them create personal wealth but, more importantly, to help them gain social experience, cultivate willpower in order to realize their potential and help them become useful members of society," Secretary for Economy and Finance Leong Vai-tac said at the opening ceremony of Inno Valley HQ.
Despite a promising market and government support, running a startup is still a high-risk enterprise.
Ao said he is fully prepared to take up the challenge. He is also banking on professional guidance and other support expected from a number of incubators in the Inno Valley HQ, including Inno Hub, 36Kr and the Peking University Entrepreneur Training Camp.
Ieong Chon-him, 28, another entrepreneur from Macao, has also opened an office at Inno Valley HQ. The returnee from the UK is working with teammates to launch their product Quick Quick Van, a mobile application offering van-hailing services, this month.
"Compared with Macao, office rent here (at Inno Valley HQ) is much lower. Moreover, it offers a platform for us to explore the mainland market," Ieong said.
sally@chinadailyhk.com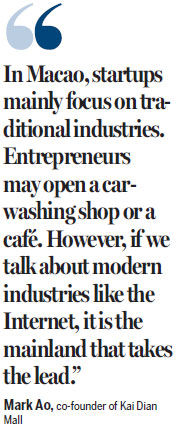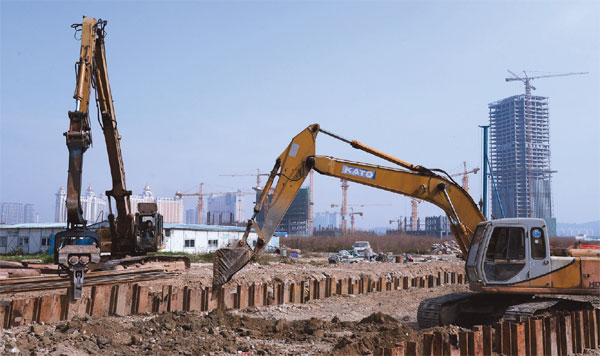 Galaxy Macau properties are seen in the background at a construction site in Zhuhai's Hengqin New Area. The newly founded Inno Valley HQ in the new area has become the destination of young Macao entrepreneurs eyeing the Internet, online commerce or high-tech industries on the mainland. Governments on both sides have set up special funds to facilitate young startups' operations. Despite a promising mainland market and government support, running a startup is still a high-risk enterprise. Photo/ IC
(HK Edition 07/08/2015 page8)