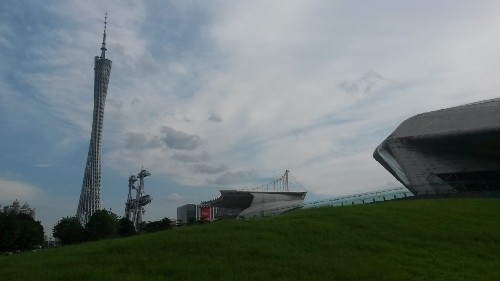 The landmark Guangzhou Tower [Photo by Zhang Yu'an/chinadaily.com.cn]
Guangdong's top leader Hu Chunhua urged effective measures be taken to quicken the pace of integration of Guangzhou and Qingyuan during his inspection tour to Qingyuan early this week.
He said focus should be made on construction of transportation infrastructures, industrial parks and expansion and upgrading of downtown areas of Qingyuan.
It is believed that quickening the pace of integration of the two neighboring cities can benefit both through better leveraging their resources, technology, manufacturing facilities, investment and trade and thus help stimulate economic growth.
This may be a way to help beat the economic slowdown. In the first quarter of this year, Guangdong's GDP was 1.49 trillion yuan, a year-on-year increase of 7.2 percent while its targeted growth rate for 2015 is about 7.5 percent.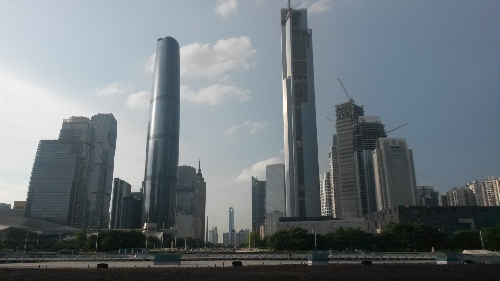 A view of Guangzhou CBD [Photo by Zhang Yu'an/chinadaily.com.cn]
Though neighbors, Guangzhou, capital of Guangdong province, Chin's largest economic powerhouse, is a leader in terms of economic development in the Pearl River Delta region while Qingyuan is known as the backyard garden of the Pearl River Delta, the largest city cluster in the country.
In 2014, Guangzhou scored 1.67 trillion yuan in its GDP while Qingyuan's GDP was 118.77 billion yuan, only about 7.1 percent of that of Guangzhou.
However, Qingyuan's land area reaches 19,000 square kilometers, the largest among all prefecture-level cities in the province while Guangzhou's land area is 7,434 square kilometers, less than half of that of Qingyuan. And, with a permanent population of about 4.1 million, Qingyuan is rich in water, minerals, forests and biotic resources.
It is not rare that local authorities concentrate most of their resources and capital on the core areas under their administration, leaving many "last mile" problems in infrastructure sectors such as transportation and telecommunications in the border areas. This creates difficulties for smooth regional integration.
The Pearl River Delta region, with Guangzhou, Shenzhen, Dongguan, Foshan, Zhuhai and Zhongshan as its core member cities, is the largest manufacturing base of the country, has several world-class shipping ports, owns three newly-approved free trade zones, and enjoys well-built inter-city transportation systems such as airports, highways, light rails and shipping hubs.
Cities outside the Pearl River Delta region, like Qingyuan, are eager to get connected with their rich or well-off big brothers so that they can benefit from their well-developed infrastructure facilities, favorable policy treatments, scale-of-economy growth momentum, human and capital resources.
The instructions by Hu Chunhua, a member of the Politbureau of the CPC Central Committee and Secretary of the CPC Guangdong Committee, are expected to help smooth and accelerate the process of integration of Guangzhou and Qingyuan. It is also possible that similar integration will be foreseeable in other cities in the province.
With regional integration process accelerated, Guangdong's economy is likely to grow faster and healthier.
The author is chief of China Daily Guangdong Bureau.