Volkswagen Import presented its flagship sedan, the Phaeton MY 2015, and a lineup of 14 models along with renewed cooperation with the Staatskapelle Dresden orchestra at the Shenzhen-Hong Kong-Macao International Auto Show on Saturday.
Demonstrating timeless German engineering, the imported Volkswagen models included the Touareg, Tiguan, Beetle, high-performing Golf R and Scirocco R as well as the new urban style of the Sportsvan, Golf Variant and Magotan Variant, Golf Variant and Magotan Variant.
"At present, Volkswagen Import sales in South China account for one-sixth of our total sales in China thanks to the popularity of the Touareg, Beetle and Tiguan. We have always been dedicated to providing Chinese customers with premium, unique and personalized vehicles that cater to a wide range of needs, while maintaining comprehensive, high-quality service," said Managing Director of Volkswagen Import Till Scheer.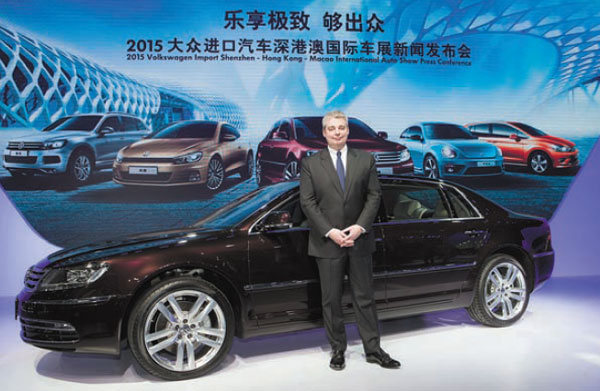 Managing Director of Volkswagen Import Till Scheer presents the Phaeton MY 2015 at the Shenzhen-Hong Kong-Macao International Auto Show on Saturday. Photos Provided to China Daily
"With the showcase of our Phaeton MY 2015, we are further enriching our product lineup and hope to become the favorite imported auto brand in the China market," he added.
For this year's Shenzhen auto show, Volkswagen Import has decided to join hands with Staatskapelle Dresden for an additional three years.
With a history that spans more than four and a half centuries, Staatkapelle Dresden is one of the world's oldest orchestras and provides a meaningful collaboration for Volkswagen Import, as the Phaeton car was also founded in the city of Dresden.
The orchestra has consistently maintained its premier position in the world of classical music and continues to discover innovative performances.
Phaeton MY 2015
The Phaeton MY 2015 integrates machinery, leather making and carpentry expertise. This allows for customized handcrafting for Volkswagen's flagship model and distinguishes the interior from its industrially produced models.
The Phaeton factory in Dresden is equipped with advanced technology and boasts the city's 500 years of handicraft experience.
Expert mechanics often spend additional time meticulously crafting each vehicle to ensure its perfection, according to the automaker. The luxury sedan conceals extraordinary power beneath its confident exterior.
While adhering to 10 strict parameters throughout the design and manufacturing process, it maintains the highest standards of modern engineering and technology.
The model comes with advanced active and passive safety technologies, including an adaptive air suspension and 4MOTION.
The Phaeton is constructed from an indestructible whole galvanized frame, double-layered soundproof glass, six strips of soundproof adhesive, soft-close automatic doors and air dynamic noise reduction technology.
Volkswagen's leathersmiths insist on creating the finest texture for each of the 143 leather parts and carpenters draw on their expertise to ensure that each piece of woodwork in every Phaeton is flawless and unique, according to the automaker. The company said it blends tradition and modernity, artistry and technology and the ingenuity and creativity of German design to bring meaning to the soul of each Volkswagen on a level comparable only to the history of Dresden itself.
Wisdom through technology
Equipped with many features and technologies, the Touareg continues to set a benchmark for the SUV sector.
The popular model can handle extreme of-road conditions while providing ultimate comfort to passengers, according to Volkswagen.
The Touareg R-line has a longer, wider body frame. Sporting the fuel-efficient, 3-liter V6 TSI supercharged direct-injection gasoline engine and the 4MOTION and air suspension systems, the Touareg can scale mountains but also zoom down highways at 230 km/h.
The two-toned nappa leather front sport seats, Dynaudio system and automatic four-partition air conditioning system ensure the utmost comfort, said the automaker.
The imported original Tiguan sticks to the standard wheelbase, chassis structure and suspension tuning that facilitate better control and agility. The imported Tiguan comes as standard with a powerful 2.0T engine and boasts an approach angle of 28 degrees.
Young and optimistic
Volkswagen Import's Beetle and up! both promote dynamism, style and boundless optimism, according to the automaker.
The Beetle has long been a popular model, offering three engine options - 1.2TSI, 1.4TSI, and 2.0TSI - with fuel consumption as low as 6.0 liters per 100 km.
Eight unique customization options are available to provide ease in creating an exclusive, personalized car. After comfortably fitting five adults in its 3.5 meters long body, the up! still has plenty of luggage space. The up! model provides the perfect solution for city driving, but also reflects the brand's positive attitude to life, according to Volkswagen.
The all new Golf R and Scirocco R were made for the racetrack and continue to set benchmarks in the sports car sector.
Equipped with a 2.0 TSI engine, XDS plus electronic differential lock, shift paddles and sports-oriented chassis tuning, both boast excellent handling and acceleration. With acceleration from 0 to 100km/h in 5 seconds for the Golf R and 6 seconds for the Scirocco R, both models can reach a top speed of up to 250km/h, exhibiting power and speed to please any thrill seeker.
Volkswagen Import also brought along the Sportsvan, the Golf Variant and the Magotan Variant to the auto show.
With flexible seat options and luggage space, stylish exterior and interior and intelligent technology and security configurations, the three models reflect the growing trend of the new urban lifestyle marked by ease of travel, latest trends and top ergonomic design.
The 19th Shenzhen-Hong Kong-Macao International Auto Show is underway at the Shenzhen Convention and Exhibition Center and will run until June 14.
liuke@chinadaily.com.cn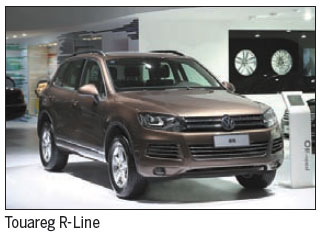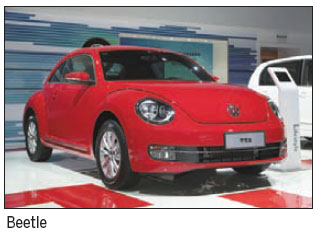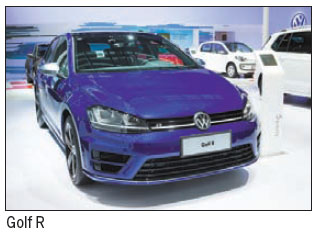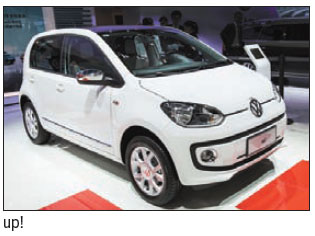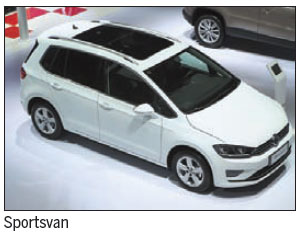 (China Daily 06/09/2015 page18)