Flow of investment funds remains strong
Updated: 2013-03-20 16:48
(China Daily)
| | | | | | | | | | | |
| --- | --- | --- | --- | --- | --- | --- | --- | --- | --- | --- |
|   | | Comments() | | Print | | Mail | | Large Medium  Small | 分享按钮 | 0 |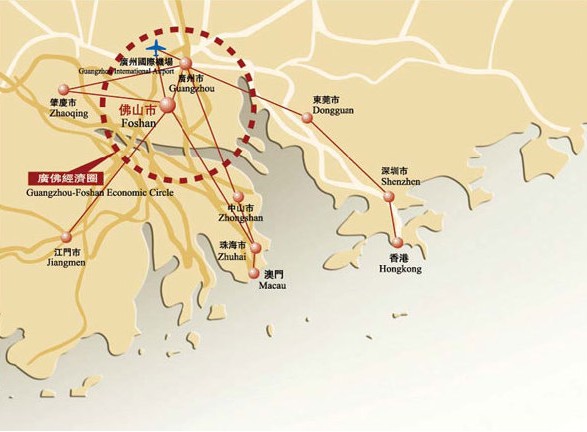 Only 16 km to Guangzhou and a two-hour drive to Hong Kong and Macao, Foshan shares markets and facilities with neighboring areas.
Despite the global economic slowdown, Foshan received growing capital flows from home and abroad last year, showing its appeal to investors is still strong.
The boomtown in Guangdong province secured $3.31 billion worth of foreign investment contracts in 2012, a 1.46 percent increase from a year ago. But actually utilized foreign capital grew more than 9 percent to $2.35 billion, according to official statistics.
The city now has 9,250 foreign-funded projects.
International big names such as Siemens, Volkswagen, Dupont, Bosch, Coca-Cola, Budweiser, Invista, Shell, Caterpillar, Hitachi, Total Fina Elf, Honda and Toshiba have all invested in the city.
The list also includes Japan's Kobe Steel, Toyota and Sumitomo Mitsui, South Korea's Posco, Italy's Fiat, H. J. Heinz from the US and many others.
Zhou Zhitong, director-general of Foshan Foreign Trade and Economic Cooperation Bureau, said the city's growing allure to investors is due to its already competitive industrial chains, great market potential and favorable location.
One of the most-developed cities in Guangdong, Foshan is already home to such industries as household appliances, machinery, ceramics, building materials, textiles and garments, food and beverages, plastics, chemicals, pharmaceuticals and metals.
Newer industries in the city that have achieved rapid growth in recent years include automobile production, optical-electrical products, new materials and environmental protection.
"It's evident that new investors can benefit greatly from the complete industrial chains here," the official said.
Zhou said tens of thousands of different types of manufacturers in and around the city generate huge demand for everything from raw materials, parts and components to finished goods and services.
He added that the well-off population in the city and its locale mean a ready and prosperous consumer market.
Zhou said the market size can be magnified many times because of city's prime location that is only 16 kilometers from the provincial capital Guangzhou and a two-hour drive to Hong Kong and Macao. It conveniently shares the facilities - seaports, railways, airports and highways - of its neighboring areas.
Another key reason for investor favor is the city government's highly efficient and professional services for investors, said Zhou.
"Many investors told me that our services helped them decide to locate here," he said.
He added the city government cancelled almost all its banquets during the Spring Festival to save money, except a reception for foreign investors.
"We think the reception was a very necessary channel for communicating and solving problems," he said.
"A senior executive of a foreign-funded company did turn to us for help and his problem was solved right that evening," he said.
The official added that the Foshan government has a stronger rule of law than many other regions.
The city launched a tribunal for intellectual property rights cases a decade ago, the first among similar cities in China.
It even has the nation's first elementary school that offers an IPR course.
Foshan also leads many other cities in the number of approved patents and trademarks, he said.
"We will learn from the world's developed economies in improving infrastructure and services. For instance we are now studying Germany in these aspects," he said.
The city government estimates foreign investment will rise 6 percent this year.
zhanlisheng@chinadaily.com.cn

The Foshan High-Tech Financial Service Zone is attracting an increasing number of financial institutions due to its modern business climate. Photos provided to China Daily