Putin and wife say their marriage is over
MOSCOW - President Vladimir Putin and his wife, Lyudmila, told Russians on Thursday that their 30-year marriage was over, confirming longstanding speculation that they had separated.
In a rare appearance together on state television, Putin was asked about rumours that they no longer lived together and answered: "That is true."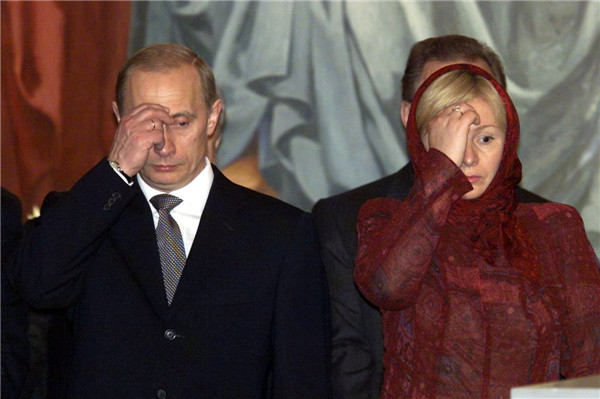 Russian President Vladimir Putin (L) and his wife Lyudmila cross themselves during Easter service at Christ the Savior Cathedral in Moscow in this April 15, 2001 file photo. Putin and his wife, Lyudmila, said on state television on Thursday that they had separated and their marriage was over after 30 years. [Photo/Agencies]
The announcement removes a big question mark about the private life of a president who has increasingly touted traditional values and championed the conservative Russian Orthodox Church as a moral authority.
Politically, Putin may have calculated that it was better to be seen coming clean about a separation many Russians have long taken as fact than to be suspected of hiding the truth or living a secret second life.
The couple looked nervous as they stood side by side in the Kremlin, speaking to a lone reporter. They referred to each other formally by first name and patronymic, adding a respectful but uncomfortable touch.
Putin smiled woodenly and nodded as Lyudmila spoke, though they both appeared more relaxed after making the announcement.
Lyudmila, a former airline stewardess five years younger than the 60-year-old president, said it had been "our common decision".
"Our marriage is over due to the fact that we barely see each other," she said. Putin also said it had been "a joint decision".  
The Putins married in 1983 and have two daughters, both in their 20s. The announcement came 13 months into a third presidential term for Putin, who came to power in 2000 and has not ruled out seeking re-election in 2018.
The couple have made only rare, sometimes awkward, appearances together over recent years, prompting media speculation that they had secretly divorced.    
In 2008, Putin said there was no truth to a newspaper report that he was preparing to marry Olympic rhythmic gymnast Alina Kabayeva, who was born the same year he married Lyudmila.
Putin told journalists to keep their "snotty noses" out of his private life and the newspaper folded shortly afterwards. Kabayeva has dismissed speculation she had a child by Putin.