Ties with ROK improving, but cautiously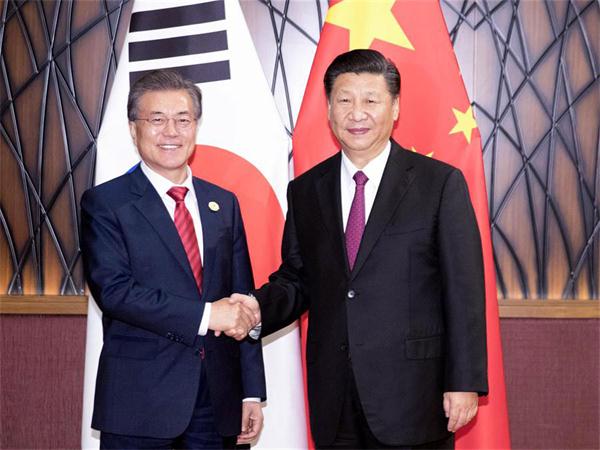 President Xi Jinping (R) meets with Republic of Korea's President Moon Jae-in in Da Nang, Vietnam, Nov 11, 2017. [Photo/Xinhua]
Communication between China and the Republic of Korea has gradually improved, leading to their recent agreement to resolve the Terminal High Altitude Area Defense anti-missile system issue.
After the establishment of diplomatic relations in 1992, China and the ROK experienced a period of cooperation and friendly exchanges which helped them make great achievements in various fields to the benefit of both countries.
But in response to the Democratic People's Republic of Korea testing what it claimed was a "hydrogen bomb" on Jan 6, 2016, the ROK agreed with the United States to deploy THAAD, which soured Beijing-Seoul ties.
However, given their close economic, geographic and cultural connections, Beijing and Seoul made sincere efforts to put bilateral relations back on track, especially after ROK President Moon Jae-in took office. The decision of the 19th National Congress of the Communist Party of China last month to initiate a new era of diplomacy, also helped improve Beijing-Seoul ties.
After Moon was sworn in as ROK president, the two countries sent out positive signals of easing bilateral tensions by strengthening communication. For instance, Seoul and Beijing agreed to renew their currency swap deal worth about $56 billion for another three years on Oct 13. And after the ROK promised that THAAD will not threaten or compromise China's national security, the two countries' militaries discussed how to resolve the prickly issue. The communication between the two militaries will help correct the structural imbalance in China-ROK cooperation.
In addition, ROK Foreign Ministry Kang Kyung-wha said on Oct 30 that Seoul will not be part of the Washington-led missile defense network, allow the trilateral security cooperation among the US, the ROK and Japan to develop into a military alliance, or agree to any additional THAAD deployment. The ROK has even rejected a US-led trilateral military drill with Japan, and ignored Japanese Prime Minister Shinzo Abe's "Indo-Pacific" strategy.
These developments helped dissipate the cloud of haze over bilateral ties. But many believe the developments could pose a challenge to US-ROK relations and, as a result, the Moon administration could face pressure from both the US and pro-US forces at home.
China has been more careful than the ROK about bilateral ties, because THAAD has greatly undermined mutual trust, which could take a long time to mend. Although China-ROK relations have improved, they are still fragile.
Moreover, China is paying close attention to what steps the ROK takes to help resolve the sensitive and volatile DPRK nuclear issue. In fact, Beijing and Seoul should use their improving relations to work together to denuclearize the Korean Peninsula, and restore permanent peace and deepen cooperation in the region. They should also keep each other's concerns and benefits in mind while trying to resolve the THAAD issue.
And as Foreign Minister Wang Yi has said, the ROK fulfilling its promise will help boost China-ROK relations.
The author is a professor in the Department of International Politics of the School of Public Administration at Jilin University, and a researcher at the Co-Innovation Center for Korean Peninsula Studies.