Should grads insist on staying in big cities?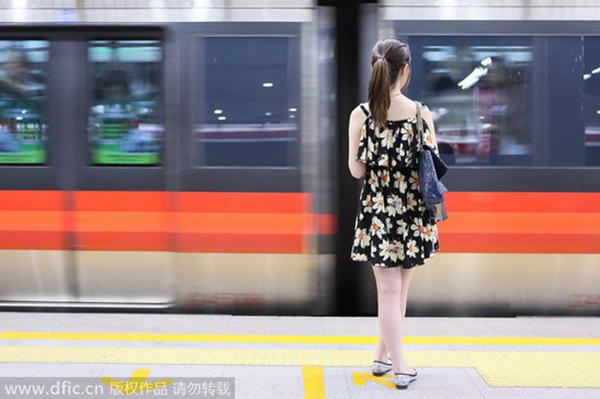 A young woman waits for the last incoming train of the day at Jianguomen station, Beijing in this file photo. [Photo/IC]
Editor's note: With the population decentralization policy taking effect in cities, and competition in the job market becoming fiercer, it's time college graduates pondered whether or not they should look for a job in a metropolis. Three experts share their views on the subject with China Daily's Wu Zheyu. Excerpts follow:
Offer diverse but attractive choices
Forget Beijing, Shanghai and Guangzhou if you want to get a job more easily and lead a better life. That seems to be the new buzzword among many in Chinese cities. However, many of the students who believed in the new buzzword were disappointed after returning to their hometowns, and are back in big cities either looking for or after getting a job.
To correct this situation, we have to make the employment environment in the smaller cities really attractive, and competitive. Occasionally, some second- and third-tier cities claim to offer the "best package" to attract talented youths, without actually providing proper resources or space for them to out their talents to full use. If smaller cities develop different types of competitive industries that really hold great hope for fresh graduates, they could solve many problems.
On the other hand, many students who opted for universities in big cities for higher studies found themselves caught in a dilemma after graduation, because they couldn't get a suitable job. It's hard to say whether urban planning alone is to blame. But students (perhaps parents too) who expect the sky in a city should also be clear about what they can eventually get, rather than being disappointed in the end.
Xiong Bingqi, deputy director of the 21st Century Education Research Institute
Can get big chances in smaller cities
Should a youth's insistence to get a job and build his or her career in a first-tier city be seen from the perspective his/her family's economic situation. If the family is economically strong enough to support the youth until he/she finds a job, there's nothing wrong with such an arrangement. But if the youth's family struggles to do so, he/she should consider returning to his/her hometown.
Working in a smaller city does not mean you can never shift to a metropolis. Once a good offer comes along, you can always do so. This is just a different way to pursue one's dream.
Moreover, in the internet era, metropolises such as Beijing and Shanghai are not necessarily the only destinations for graduates, as the changing times and technologies have changed the concept of workplace. Many companies don't need to be located in resource-intensive and populated cities, because as they can achieve capital appreciation and added value no matter where they are located as long as they have access to a modern logistic network and the internet.
In other words, it's no longer important where students choose to work; the fact that really matters is, whether graduates are knowledgeable, skillful and mature enough to see through the appearance and superficial charm of a place, or have the capacity and courage to start a business using the limited resources at their disposal, such as the internet.
Yan Yajun, associate professor, College of Education, Zhejiang University
Graduates' planning fits rational choice theory
According to the rational choice theory, every rational being is assumed to take into consideration all the available information, probabilities of events, and potential costs and benefits before determining preferences, and to act consistently in choosing the self-determined best choice of action.
The planning graduates make, it has to be assumed, is in accordance with the rational choice theory in the long run, though blind adherence in a belief or the overall atmosphere may influence them for a short period. Hence, to advocate a policy or strategy, like encouraging them to stay at a certain place, is to fundamentally shape a better working environment for them.
So despite struggling with tougher competition in the job market, why do so many graduates still want to get a job in a big city? Because the broader development platform and better education opportunities attract them.
Still, students would do good to have a long-term vision when planning their career, and take more facts into consideration such as forecasts of the trend in the industry or industries of their choice.
Yu Xiulan, professor at the Institute of Education, Nanjing University