Strict standards required to keep safe watch on kids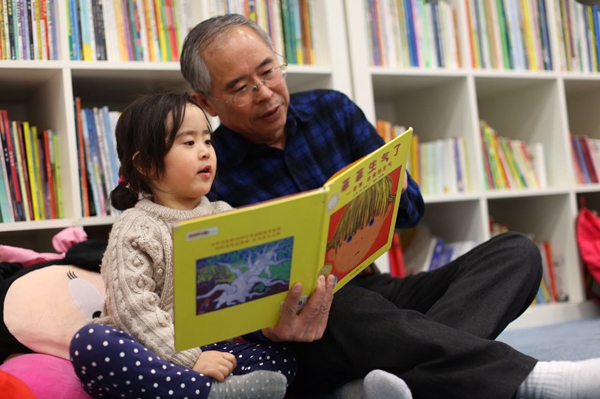 A grandfather tells stories to his granddaughter at a library in Beijing on the International Children's Book Day, which falls on April 2 every year. [Photo by Wang Jing/Asianewsphoto]
IN ORDER TO protect their children's safety, many parents buy smart watches that allow them to track their kids' whereabouts and make telephone calls for them. Yet there are reports that the smart watches can be hacked, threatening the children's safety. Hbnews.cn comments:
As early as 2015, there were reports of serious loopholes in the security of some smart watches. Now it is reported that hackers can not only locate the children wearing these devices, but also listen to their daily conversations and make records of their daily activities.
Besides, certain brands of smart watches reportedly emit high levels of radiation, which may pose a health risk. It seems the products designed to protect children may actually pose a threat.
There are many reasons for this, but a major one is the lack of national standards for the design, manufacturing and quality control of children's smart watches.
In March, the local consumers' association in Shenzhen, South China's Guangdong province, co-drafted an official document with several government departments, outlining quality standards for children's smart watches. Earlier this month, they held a public hearing on the document, and the final version is expected to be released soon.
That's a positive move. We hope there will be similar efforts at the national level too.
Fortunately, there has been no major incident involving children's smart watches yet. We hope the responsible departments will draw up national standards as soon as possible to ensure that remains the case.