Graft and incompetence threaten reserves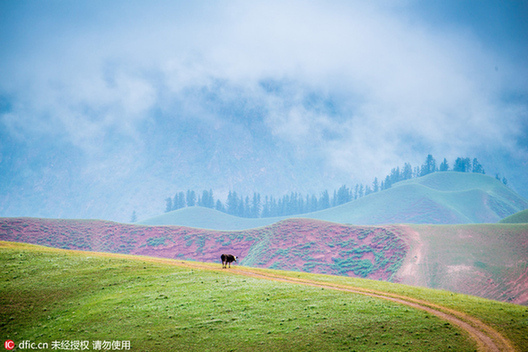 The Qilian Mountains, also known as Nanshan, is one of the major mountain ranges in China, forming the border between Qinghai and the Gansu provinces in northern China. [Photo/IC]
BETWEEN JANUARY AND OCTOBER some 16 people have been detained on suspicion of undermining the natural resources in the Qilian Mountains National Nature Reserve, Northwest China's Gansu province, the Supreme People's Procuratorate said on Monday. Beijing Youth Daily commented on Tuesday:
Established in 1988, the Qilian Mountains National Nature Reserve is home to rich mineral and water resources, which have been the victim of deforestation, illegal mining and unauthorized hydropower exploitation for years. As an ecological protection area in western China and an important source of water for the Yellow River, the reserve deserves better protection.
Insufficient environmental protection enforcement no doubt emboldened illegal exploitation activities in the reserve. The longevity of the illicit exploitation of natural resources, which President Xi Jinping repeatedly urged the local government to deal with between 2014 and 2016, suggests that something has gone very wrong in local governance.
Some 42 hydropower stations were still operating illegally in the reserve, drying up some rivers, according to a report from China Central Television. The Supreme People's Procuratorate has sent a special inspection team to investigate the pollution cases, while the Gansu authorities have issued a notice pledging heavy polluters will receive severe penalties. An investigation into the state of the local ecology has also been launched.
More than 100 local officials have been held accountable for not protecting the reserve, including Wang Sanyun, former Party chief of the Gansu Provincial Committee of the Communist Party of China, who has been expelled from the Party and dismissed from public office for bribery. Under his watch, the reserve did not see substantive ecological improvement and the instructions of the central government were not carried out.
The effects continued even during the inspection of the Supreme People's Procuratorate. Most of the evidence gathered was administrative rather than criminal, and the local prosecutors did not have enough power to supervise local governments and polluting enterprises.
Curbing environmental pollution, be it in the air, water or soil, is a daunting task for the country and cannot be done overnight. Corruption and incompetent governments only make that task a lot more difficult.