Give sanctions time to bite, and leave door open to talks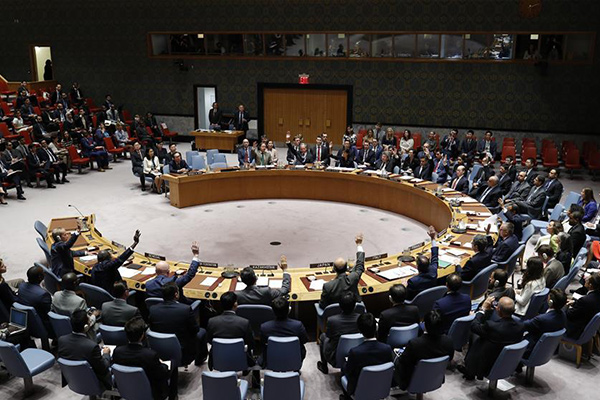 Photo taken on Sept 11, 2017 shows the United Nations Security Council voting on a resolution on the Democratic People's Republic of Korea (DPRK) at the UN headquarters in New York. UN Security Council on Monday imposed new sanctions on the DPRK over its latest nuclear test. [Photo/Xinhua]
Every time the Democratic People's Republic of Korea conducts a nuclear test or missile launch, it is followed by a chorus of condemnation and a package of UN sanctions. Then everything goes back to "normal", with Pyongyang and Washington continuing their brinkmanship and the rest of the world helplessly looking on.
To ensure a peaceful Korean Peninsula that vicious circle must come to an end.
The UN Security Council has issued another strongly worded condemnation following Pyongyang's missile launch on Friday. But such rhetoric never works with the DPRK, whose leadership is seeking an "equilibrium of real force with the US"-that being to its mind nuclear deterrence.
So the question being asked now is: Will sanctions make a difference?
If sanctions failed to prevent Pyongyang from conducting what it claims was a hydrogen bomb test on September 3, and launching a ballistic missile on Friday, will the latest sanctions bring the leaders in Pyongyang to their senses?
Some have simply accepted they will not, and are either calling for military action or else saying it is time the rest of the world began to learn to co-exist with a nuclear-armed DPRK. But the latter requires the international community forsake its current commitment to denuclearization and accommodate a provocative Pyongyang as a legitimate nuclear power, which looks anything but realistic.
In its latest statement, the UN Security Council displayed the unanimous belief that Pyongyang's nuclear/missile stunts are a threat to regional and global security. Beijing, through its ambassador to the US, stated hours after the missile launch on Friday that China would not accept the DPRK as a legitimate nuclear power.
Considering the unaffordable collateral damage of any military action against the DPRK, as well as the impossibility of dialogue at the moment-especially since Republic of Korea President Moon Jae-in, who favored engaging Pyongyang, has found dialogue "impossible"-the most feasible approach is to let sanctions do the trick.
With its Friday missile launch, Pyongyang wanted to give the impression that sanctions will not work. Some people have fallen for that and immediately echoed the suggestion, pointing to the failure of past sanctions to achieve their purpose.
But that past sanctions did not work does not mean they will not. It is too early to claim failure because the latest sanctions have hardly begun to take effect. Giving the sanctions time to bite is the best way to make Pyongyang reconsider.
Priority No 1, therefore, is for the international community to work in unison so that the UN sanctions are implemented in full and work as intended, while leaving the door open to talks.