Tidy parking key to shared bikes' expansion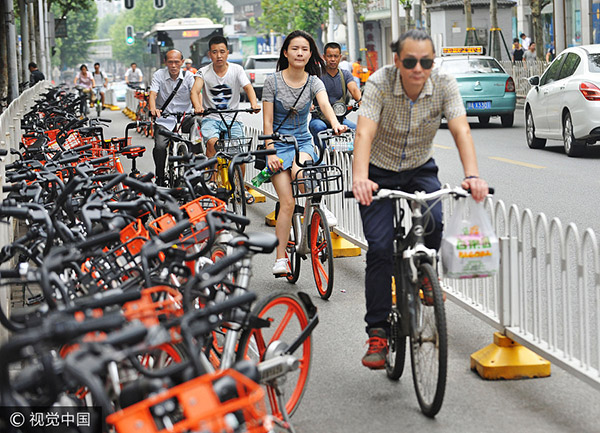 People ride shared bikes in Wuhan, Hubei province, June 26, 2017. [Photo/VCG]
China's phenomenal bike-sharing business is set to take a strategic twist at home. While Chinese bike-sharing company Mobike rolled out the first of 750 bikes in West London on Tuesday, Beijing's transportation management authorities have called a halt to such dock-less, hire-on-demand bikes in the city, where some 2.35 million "shared" bikes are being run by 15 companies.
Beijing is among the 12 cities that have suspended additions to the existing fleet of shared bikes-for obvious reasons. The capital now has one bike for every 14 residents, way more than what it needs to promote green public transportation. With more public places and private residences building up fences to keep chaotic parking at bay, shared bikes, hailed as a "last-mile" solution, are often seen piled up on pavements even near bus stops.
Having survived the "retaliatory" attacks by drivers of motor tricycles, a once-popular yet illegal last-mile choice carrying commuters to the nearest bus stops or subway stations, shared bikes now face another moment of truth. By the end of July, 70 bike-sharing companies had rolled out a total of 16 million bikes to serve the more than 130 million registered users, according to the Ministry of Transport. This means the promises of the bike-sharing companies to fix what is wrong-from pavement clutter to oversupply-may go unfulfilled.
The ban imposed by the 12 cities on additional shared bikes could, ironically, be an opportunity for the bike-sharing operators, big and small, to shift their focus to other cities, although soaking up their excess capacity will not be easy.
Leading the competition are Mobike and Ofo that made their foray into overseas markets last year. Ofo's distinctive yellow bikes have hit the roads in eight countries outside China, including Singapore, the United States and Japan, and the company said it aims to roll out 20 million bikes in 20 countries by the end of the year. The ambitious expansion is not only about competition, though, because the tactic of overwhelming rivals with increasing numbers of bikes may come to a stop should more Chinese cities put a cap on the number of bikes in service.
Which begs the question: Are overseas markets the ideal destination for the oversupplied shared bikes in China?
Mobike and Ofo are right to run their trials in densely populated cities such as London and Singapore. Their overseas operations, however, are unlikely to expand rapidly enough to absorb the excess capacity in China. Extra shipping and maintenance costs, local rivals and the almost insignificant early market shares mean it would be unwise for the companies to bet on overseas expansion.
So the main battlefield will be at home where any misstep could be the Achilles' heel of service providers. Bike-sharing companies should draw a lesson or two from the fact that the bike-sharing service, though in its early stage of development, is already near saturation in the Chinese market. So to sustain, if not to expand, their global operations, the companies have to work out smarter ways to ensure the shared bikes are not parked wrongly and do not cause inconvenience to pedestrians and drivers.
As of yet the companies are not capable of solving the parking problem, which is the key to their survival. It is courageous of them to venture out. But their overseas destinations, often away from downtown and other relatively crowded parts of a city, are not well served due to management difficulties. So for Chinese bike-sharing operators, their technological advantages, such as "geo-fencing", GPS trackers and the ability to generate tremendous traffic data, will make little difference if they continue to be locked in the game of numbers instead of trying to solve the parking problem.
The author is a writer with China Daily. cuishoufeng@chinadaily.com.cn