Kuhn: Xi's 'Four Comprehensives' demonstrates philosophy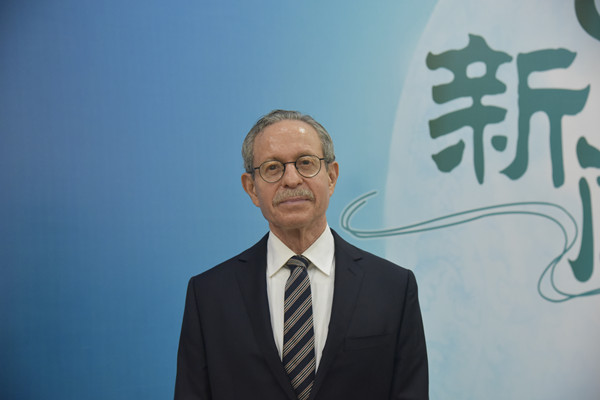 Robert Kuhn speaking at the talk entitled "The 19th National Congress of the Communist Party of China and President Xi Jinping's New Philosophy on National Governance", hosted by the All-China Journalists Association on Sept 7. [Photo by Zhao Manfeng / chinadaily.com.cn]
President Xi Jinping's political theory, the "Four Comprehensives", is emerging as President Xi's prevailing philosophy of governance, said Robert Kuhn, an international corporate strategist and political and economic commentator at a talk entitled "The 19th National Congress of the Communist Party of China and President Xi Jinping's New Philosophy on National Governance", hosted by the All-China Journalists Association on Sept 7.
By underscoring the "Four Comprehensives" — comprehensively build a moderately prosperous society, comprehensively deepen reform, comprehensively govern the nation according to law and comprehensively strictly govern the Communist Party, President Xi is making his commitment public to each policy.
"When you have a slogan, you always have an aspiration," Kuhn said, laying out his thesis. "Slogans are very important in understanding China, as they point out problems and provide solutions. But even sophisticated China watchers dismiss the political efforts Chinese leaders have made as simplistic sloganeering, so they miss the opportunities to enrich their understanding of China."
The "Four Comprehensives" is a broad way of defining governance. A moderately prosperous society is the goal, deeper reform is the means, rule of law is the principle, and strict definition of the Party is the action or state of affairs, Kuhn said.
In economic terms, a "moderately prosperous society" has been defined as doubling the 2010 gross domestic product and per capita income. But Xi's vision goes beyond economics and embraces social, cultural and ecological indices, said Kuhn
The reason that deepening reform, the second comprehensive, is so critical is that reform is now entering "deep waters" with more challenges ahead, said Kuhn
On the subject of rule of law, the fourth plenary of the party's 18th Central Committee, which met in October, 2014, has made the judicial system independent of local government, protecting it from undue influence as a significant improvement.
Kuhn said that the fourth comprehensive, "strict discipline in the party", is Xi's hallmark — the goal of both the anti-corruption campaign and quashing the extravagances of officials.
Each policy now has a new era to be tested, at a higher level of significance. Because President Xi has come up with this, he is making a public commitment to each policy, said Kuhn.
Speaking of the difficulties of reform, Kuhn said that there are substantial interest groups in every possible sector, as China is becoming wealthy less than 20 years after the economic reform. But with the results of the anti-corruption movement, deeper reform is still on track, Kuhn said.