To truly reduce air pollution, Beijing needs to take some innovative steps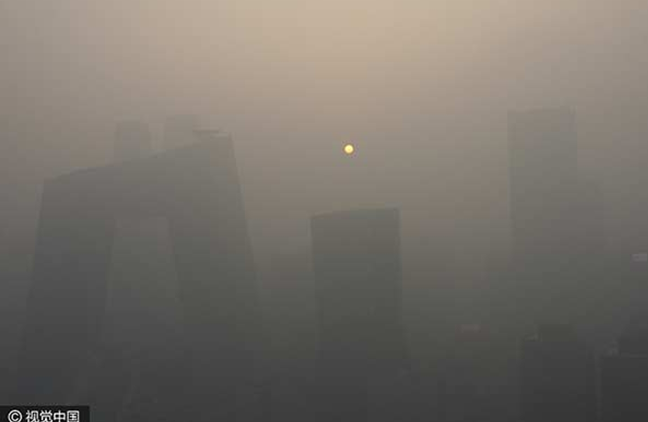 The China Central Television (CCTV) headquarters (left) is obscured by severe smog in Beijing on Nov 4, 2016. [Photo/VCG]
WERE IT NOT for the shower on Sunday afternoon, the suffocating smog shrouding Beijing from Thursday would have lasted longer. In the past, rarely has Beijing been covered by smog during the most anticipated yet extremely short fall. Beijing News comments:
The Ministry of Environmental Protection warned last week that "multiple meteorological factors" might cause smoggy weather in September and October, much earlier than winter, in North China.
That the Beijing municipal government implemented the capital's emergency air pollution prevention and control measures immediately after the ministry's warning deserves praise. At the city government meeting, Party chief Cai Qi openly criticized 14 residential community and township authorities for their inability to cut pollution from local sources, and vowed to reduce PM2.5(hazardous particulates less than 2.5 microns in diameter) in the air.
The battle against smog has reached a flashpoint. Cai's meticulous result-oriented working style, and his focus on specific department heads and concrete air quality data have strengthened Beijing officials' resolve to ensure the city gets clean air.
In this regard, Beijing needs to first identify the local sources of pollution and then take targeted measures against them to reduce emissions. The process should be transparent, as many pollution-control measures need public support.
After the relocation of all the heavy polluting industries out of the city, the emissions from Beijing's about 6 million vehicles have become a major source of pollutants contributing to smog. So public campaigns should be launched to make people realize that using public transport is a good way of reducing pollution, especially because most Beijing residents want a clear blue sky but do not make conscious efforts to work for it.
Beijing has the best of resources and talents in China, but it is yet to combine their strengths to form a powerful force to combat pollution. Hopefully, Cai's pledge will signal the beginning of that process.