Merkel's offer a ray of hope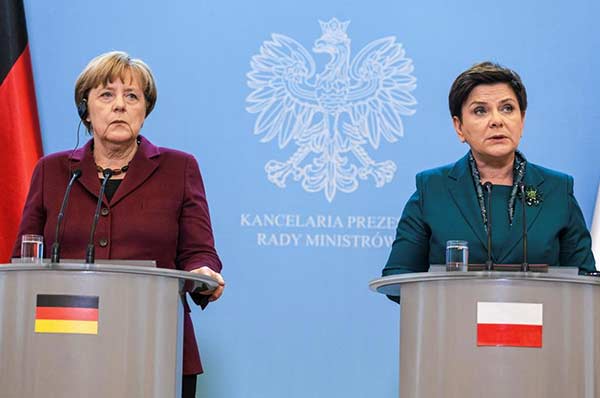 German Chancellor Angela Merkel and Poland's Prime Minister Beata Szydlo during a press conference in Warsaw, Poland February 7, 2017. [Photo/Agencies]
Today even the most sanguine geopolitical analyst would have to concede the Korean Peninsula nuclear crisis has reached the most critical, if not the most dangerous, stage. Despite years of international efforts to put a brake on the Democratic People's Republic of Korea's ambitious nuclear program-through the Six-Party Talks or the many rounds of sanctions imposed by the United Nations and some countries-the country's nuclear and missile program seems close to completion.
Given these facts, new ideas and the involvement of new parties are needed to resolve the Korean Peninsula crisis.
It is thus welcome news that German Chancellor Angela Merkel is ready to play a diplomatic mediator's role to help break the peninsula deadlock. In an interview with a German newspaper, published on Sunday, Merkel said: "If our participation in talks is wanted, I will say yes immediately." Merkel referred to the negotiations that led to Iran curtailing its nuclear program as a "possible format" for resolving the DPRK nuclear issue.
A week earlier Switzerland had offered to mediate between the rival parties, and on Friday China asked France to play a "constructive role" in helping ease the situation on the peninsula.
Merkel's suggestion echoes the rational voices in the international community that the DPRK nuclear issue should be resolved through peaceful consultations, and that war should never be an option. But for her "format" to work, Pyongyang and Washington, the two sides directly involved in the conflict, have to make some compromises.
Neither side has shown any signs of budging from its rigid stance, though. And the "dual suspension" proposed by China and Russiathe DPRK suspends its nuclear and missile tests in exchange for the United States and the Republic of Korea suspending their joint military drills-seems to have fallen on deaf ears, and the vicious circle of rising tensions and increasing provocations continues.
But since Germany has no direct interest in the conflict, Merkel may be in a better position to help ease Pyongyang's existential worries, which have intensified due to the dramatic changes in the international situation after the end of the Cold War and decades of self-imposed isolation.
Although it is far too early to say whether Merkel's sedate diplomacy would help stabilize the Korean Peninsula, the efforts made by Germany, and other countries, in the pursuit of a peaceful resolution to the DPRK issue will help build mutual trust and reduce the chances of war. Any effort toward that goal is highly commendable.