Are glass bridges a good idea?
rkim (China)
After seeing the article and the picture of people walking on the glass bridge set between mountain tops, I think it's not a good idea because it is concerned more with public safety and people's lives than using it for attracting more tourists. No matter how much the builder guarantees how safe it will be, it doesn't mean that tourists are well aware of the danger and the consequences if any accidents happen; besides that, most people have no idea what kind of legal responsibility must be taken by the builder and the tourists themselves in case of any accidents happens, like glass broken ( or someone being injured by broken glass) or by man made causes or by force majeure.
This kind of high risk tour product set as a tourist site must have transparent legal papers defining legal the responsibility of the tour organizer, but also, widely alert people need to be fully aware of the danger and provide the necessary training and knowledge in how to handle an emergency.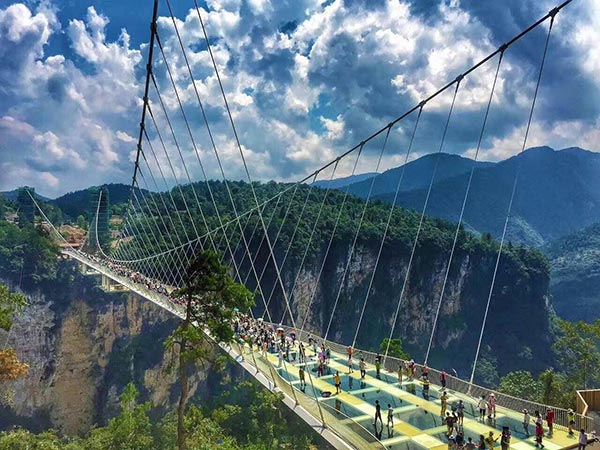 A view of the 430-meter glass-bottom bridge in Zhangjiajie, Hunan province, in August. [Photo provided to chinadaily.com.cn]