An unwelcome but needed brake on investment abroad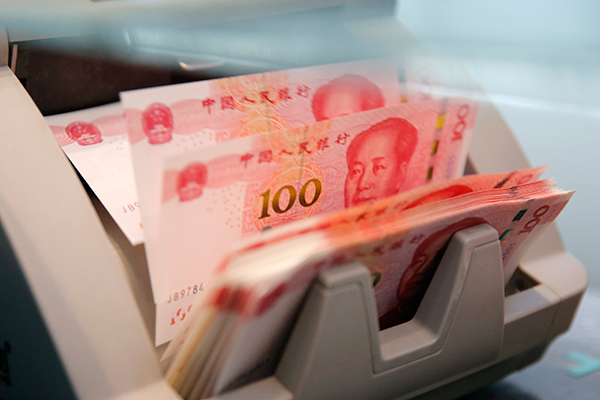 Chinese 100 yuan banknotes are seen in a counting machine while a clerk counts them at a bank in Beijing, China, March 30, 2016. [Photo/Agencies]
As Chinese companies are speeding audaciously ahead with massive cross-border mergers and acquisitions, it is frustrating for them to encounter an increasing number of red lights in some Western countries.
But while the foreign regulatory objections that have thwarted some high-profile Chinese deals may be easily interpreted as politically-driven, they actually make an unintended case for a timely and coolheaded review of the ongoing surge in China's overseas investment.
Latest official statistics showed that China's outbound direct investment jumped 53.7 percent year-on-year to 882.78 billion yuan ($134.22 billion) in the first three quarters of this year.
That means Chinese companies have already completed more overseas M&A projects in the first nine months of this year than the total of last year in terms of transaction value.
The speed of China's outbound direct investment growth is remarkable. It turned from a net importer of capital into a net exporter when its outbound FDI surpassed inbound FDI for the first time in 2014, and it jumped to be the world's second largest source of outward FDI last year. It is estimated by Dealogic, a company that offers analytics and technology to investment banks, brokerage firms, and investment advisers, that so far this year, China has for the first time done more deals than the US, the top cross-border acquirer since 2008.
Yet, even before Chinese companies can give themselves a pat on the back, they must prepare to weather the storm gathering on the horizon.
Regulatory moves by Western governments to resist investments by Chinese companies have reportedly ruined planned Chinese acquisitions worth up to nearly $40 billion since mid-2015. According to boutique investment bank Grisons Peak, Chinese companies have dropped 11 big M&A deals since July last year, mainly because of scrutiny by authorities in the United States, Australia and elsewhere. And the total value of these foiled deals amounted to as much as one-seventh of all deals Chinese companies announced over the past 16 months.