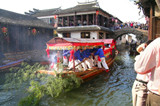 2013-07-06
During the reign of Emperor Shunzhi of Qing Dynasty, the people of southern Yangtze River area rebelled in succession to overthrow the Qing regime.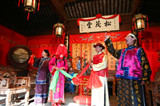 2013-07-05
The rose wedding is a traditional folk custom in Suzhou's Zhouzhuang that imitates the traditional wedding ceremony of the late Qing Dynasty and early Republic of China periods.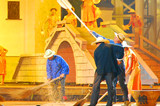 2013-07-04
Masts were erected with many colorful lanterns on the square near the Niulang Temple in Dongzhai village on Lantern Festival.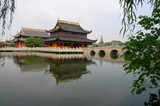 2013-07-03
During the reign of Emperor Zhezong of the Song dynasty (1086~1093), Zhou Yingxi, a junior official from Zhouzhuang, donated his residence for a Buddhist temple.
2013-07-03
Xuan Juan is a unique genre of folk variety shows in the villages of Zhouzhuang.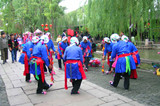 2013-07-02
Da Lian Xiang is a traditional Chinese dance, also called the Coin Stick Dance.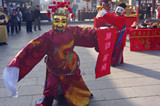 2013-07-01
After 5 days of closing the Spring Festival, all of the stores in Zhouzhuang are opened on the fifth day of the first lunar month to welcome the God of Wealth, followed by drums, fireworks and tributes.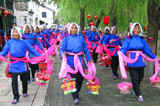 2013-07-01
Tiaohualan is a form of dancing performed by the women in Zhouzhuang to celebrate the harvest, pray for safety, and express goodwill and happiness.
Like Christmas Day in the West, it is traditional in China to cook up an enormous feast on Chinese New Year, with dinner tables groaning under the weight of dozens of dishes.