When Joe meets Miyazaki – animated film music in Kunshan
(chinadaily.com.cn)
Updated: 2016-12-27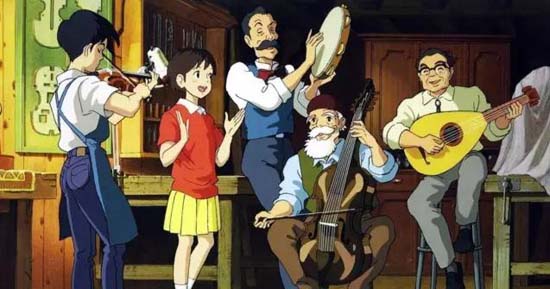 A symphony concert featuring classical music composed by Joe Hisaishi in Miyazaki Hayao's animated masterpieces will be performed at the Kunshan Poly Grand Theater on Dec 31. [Photo from WeChat account kspoly]
For Joe Hisaishi and Miyazaki Hayao, world-famous composer and animation director, it was a great joy to meet each other. For movie fans and music lovers the mingling of sweet melodies and fascinating anime is a great fortune.
To benefit local enthusiasts, Kunshan Poly Grand Theater will hold a symphony concert on Dec 31 featuring classical music composed by Joe Hisaishi for Miyazaki's animated masterpieces, including themes from Castle in the Sky, Spirited Away, Howl's Moving Castle and Ponyo.
Different from former shows that usually focus on the orchestra, this concert will feature a large screen playing clips from the classic movies – not only a perfect implementation of the beautiful melodies, but also bringing audiences back to the touching scenes.
You can just come to experience the masters' great works at 7:30 pm on Dec 31, with reasonable prices ranging from 180 to 580 yuan.
Joe Hisaishi is a Japanese composer known for over 100 film scores and solo albums dating back to 1981. While possessing a stylistically distinct sound, his music has been known to explore and incorporate many different genres.
Miyazaki Hayao is a famous Japanese film director. His works often contain recurrent themes, like humanity's relationship with nature and technology, which resonate a lot among audiences.
Since the two masters first collaborated in 1984, their work has been a resounding success all over the world.