Taking up approximately 30,000 square meters beside Yangcheng Lake, Zhonghuilv Hotel (中惠旅体验酒店) is designed to look like a large cruise liner from the outside, suggesting it offers relaxation comparable to that of a cruise tour.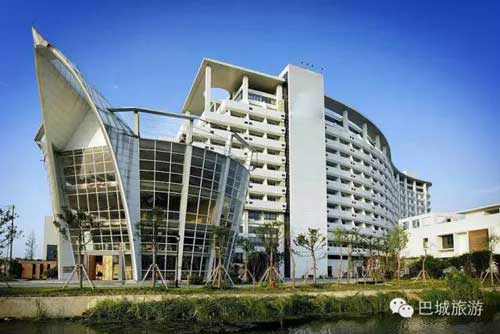 Zhonghuilv Hotel in Bacheng. [Photo from WeChat account bachengly]
The hotel is situated at the intersection of Yingbin and Hubin road. It is conveniently located close to major highway transportation networks, yet still offers a quiet retreat.
East Yangcheng Lake, Kuilei Lake, Manli Lake and Shanghu Lake are all within the vicinity of the hotel and provide soothing waterside views, fresh air and an abundance of aquatic life.
Nearby restaurants serve hairy crab, crayfish, and yellow catfish (Pelteobagrus fulvidraco). Or for an even fresher catch, visitors can try their luck at angling at the numerous fishing spots in the area.
The hotel has 451 guest rooms and gym, sauna and cultural amenities. The multi-function room can host up to 500 people and a banquet of 30 tables. There are also four meeting rooms of different sizes.
Well trained staff are on hand to offer tailored services and do everything in their capacity to satisfy guests and event organizers.
As a registered company of China's National Equities Exchange and Quotations system, Zhonghuilv Scenic Chain (the hotel's owner) has been a leading player in the Chinese resort hotels industry for years and visitors can be rest assured of a professional level of the services.
Located within a one-kilometer radius of the hotel are Yangcheng Lake Water Park, Xingqijiu ecological farm and the old Chongning Temple. The park and farm offer both leisure and amusement facilities, and waterside views.
For the cultural addicts, Chongning Temple offers a historical look at Buddhism through the ages. The temple was built in AD 509 during the Northern and Southern Dynasties, at a time when Buddhist culture flourished across China. A Buddha statue made from Myanmar jade, measuring 2 meters in height, can be seen there.
Three kilometers away from the hotel is the 200-meter-long old street at Bacheng town. Here, visitors can taste traditional food, enjoy Qing Dynasty (1644-1911) architecture and tour museums housing cultural relics such as ceramics, bronze wares, jade wares.