Life in ancient southern China comprised misty rains, stone-paved roads and buildings of black tiles and white walls.
All can be found in Qiandeng, a small water town in Kunshan, Jiangsu province. Qiandeng is a town with everything that you dream about the poetic Jiangnan, the regions south of Yangtze River.
Back alleys, bridges, and old shops endured peace and war. Having already become part of daily life, they don't draw attention from locals. However for those who left for urban lives, the ordinary sights pop up vividly from their hometown memories.
Qiandeng's old street stretches for 1.5 kilometers. Ancient buildings cast shadows on the stone pavements.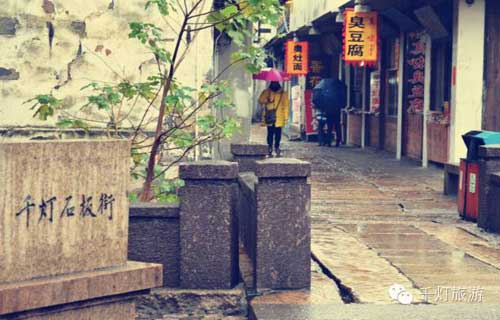 The stone paved street in Qiandeng. [Photo from Qiandeng Agriculture Tourism WeChat account]
Walking down the street through drizzling rain arouses mixed feelings. The rain moistens the air, the buildings and the roads as well as softens hearts.
Don't worry about flooding. Stones with carved patterns are set at intervals, with the openings on the surface as sewers.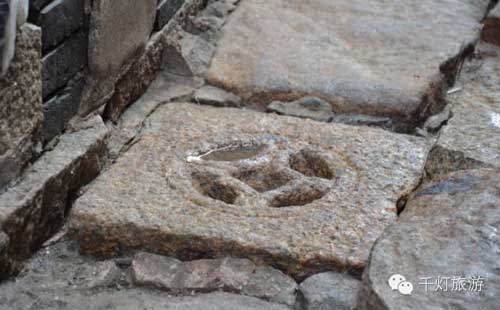 Carved stone plates serve as sewers in Qiandeng. [Photo from Qiandeng Agriculture Tourism WeChat account]
On dry days, elderly people play Chinese chess at their usual spots on the street. Some visitors look around and scout small lanes between buildings, hoping to stumble upon something curious and unknown.
Two ancient wells sit shoulder by shoulder on the old street. They were the main water supply when tap water and bottled water didn't even exist. Today locals still use the well water for cooking, personal hygiene and doing laundry. They take water with their buckets in early morning and afternoon. A small chatting area has formed for women washing vegetables and clothes by the wells.
Some small courtyards are tidy and full of real life. There are no spacious atriums or layers of houses. Narrow doors are often wide open, welcoming neighbors and friends.
By Liu Sitong and edited by Andrew Ancheta