Clothes and ornaments in water town
(chinadaily.com.cn)
Updated: 2013-07-09
Zhouzhuang is surrounded by the cities of Kunshan, Wujiang and Qingpu. The traditional clothes and ornaments of local rural women present the rich features of waterside towns.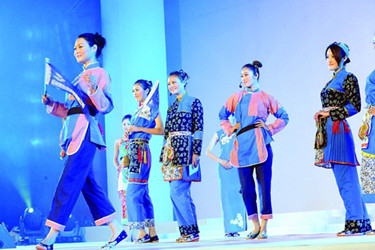 Wearing a flower towel or blue cloth scarf, a Chinese garment with buttons on the right, a small pleated apron on the waist, two color strips, of red and green fringes, drooping from the back to knees, a blue cloth pant, and embroidered edge piping circular mouth cloth shoes – this is an exact portrait of a rural woman from the waterside town of Zhouzhuang.
Young girls prefer to wear clothes that look elegant and charming. They will wear red scarves on their heads, tied up from behind, unveiling red ponytail holder fastened pigtails on both sides. They will put on spotted kirtles with buttons on the right, small pigmented blue pleated aprons, with exquisite patterns embroidered on the waists. Their blue strips will be decorated with red and green fringes. They will wear embroidered cloth shoes. All these combine to project dainty charms.
The clothes and ornaments of middle-aged women are known for their blue kirtles with buttons on the right, blue pleated cloth aprons covered with smaller aprons of the same colors, and plain color cloth shoes. Their headwear is different from maidens in that the towels are plain color, or blue cloth. They wear their hair in a bun with colorful colts. The hair buns are vertically inserted with silver lotus plates, fastened sidelong with a silver hairpin. Their decorations look plain and finely prepared, showing a beauty of elegance.
The clothes and ornaments of old women come largely in dark shades. Their hair buns are enveloped with black net towels. Their cloth aprons are generally black, leaving an impression of unsophisticated and dignified beauty.