Inner Mongolia strengthens school soccer training
By Zhao Xiao (chinadaily.com.cn)
Updated: 2017-03-02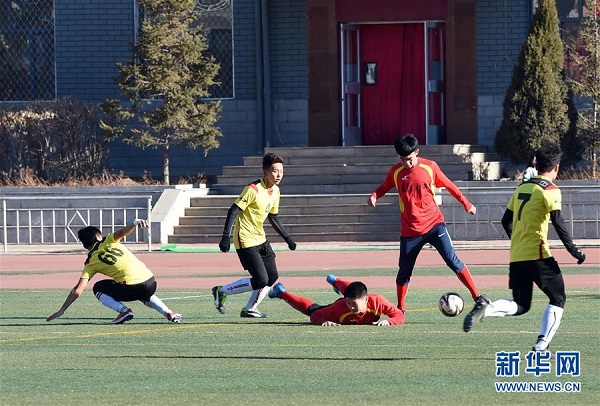 The opening match between the No 1 Senior Middle School attached to No 1 Machinery Group and the Baogang No 1 High School in Baotou on Mar 1. [Photo/Xinhua]
A school soccer event began in Baotou on Mar 1 to engage teenagers in soccer fun and training, with the possibility of talented students being selected for youth soccer teams and even professional leagues.
The event was held at the No 1 Senior Middle School attached to No 1 Machinery Group in the Qingshan district of Baotou, Inner Mongolia autonomous region, and sponsored by the Baotou education department, the education office of the Qingshan district, and a work group for regional school soccer reform and development.
Over the past two years, Inner Mongolia has built 1,650 schools specializing in soccer, and has held nearly 20,000 soccer matches.
Inner Mongolia has sought an innovative way of bridging the gap between schools and leagues to create an "express bus" for students showing great potential. The region plans to promote a new talent selection mode called the "double-track system" for school enrollment and soccer membership.
The region intends to host 11 age-level soccer leagues ranging from U9 to U19. Seven will be led by the regional sports bureau, and four will be led by the education department.
Soccer associations have already sent 25 football coaches to England for training, and there will be 7 squads leaving for additional training in England this year.
Some football-related exercises are being popular among primary and middle schools, contests for cheering squads also springing up in the region.
The No 1 Senior Middle School's girls' soccer team won the first three places during the North Division of the China National High School Soccer Matches for Girl Students. The team won fifth places during the recently-concluded Chinese Football Association Cup for Middle School Students on Feb 22. The school's boys' team also won the top title in the U19 level competition.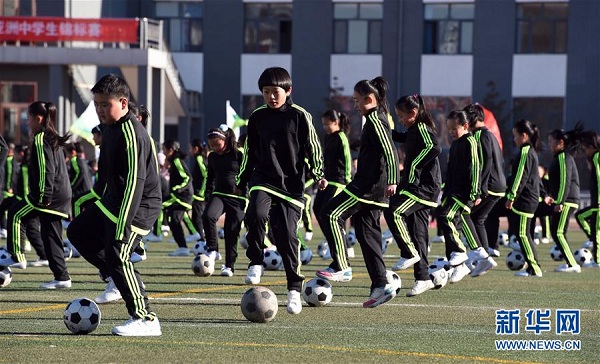 Teenagers practice dribbling during the school soccer event held in Baotou on Mar 1. [Photo/Xinhua]