Film-themed orchestral concert held in Hohhot
By Zhao Xiao (chinadaily.com.cn)
Updated: 2017-02-21
A film-themed orchestral concert was held in Hohhot on the evening of Feb 19 in anticipation of the 26th Golden Rooster and Hundred Flowers Film Festival.
During the concert, the audience cheered to the music of their favorite film soundtracks including Mission Impossible, The Red Detachment of Women, Titanic and Walter Defends Sarajevo.
The film festival will be held in Hohhot from Sept 13 to 16, containing an opening ceremony, an evening gala, a nominations ceremony, a red carpet event and the awards ceremony.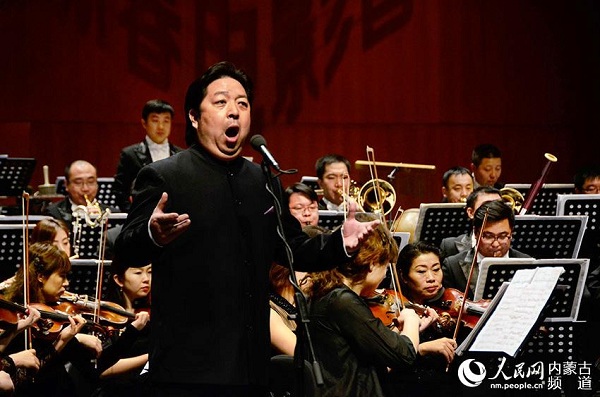 A tenor sings a Mongolian ethnic song, Never-setting Sun Rising over the Grasslands, accompanied by an orchestral ensemble in Hohhot on Feb 19. [Photo/people.cn]
The film festival will also release premier movies from all over the world, including films made by members of some of China's ethnic groups.
As China's version of the Academy Awards, the Golden Rooster and Hundred Flowers Film Festival will be sponsored by both the China Federation of Literary and Art Circles and the China Film Association.
The festival aims to honor excellent films and individuals for their devotion and creativity in the film sector, and to further promoting China's film industry.
The Golden Rooster awards are also called "expert awards", as the film nominees are selected by reputed artists and professional film reviewers. The Hundred Flower awards differ, as they are chosen by the public.
As the host city, Hohhot hopes to present its hospitality and unique culture to filmmakers from China and aboard. It is a golden opportunity for Hohhot, as well as the whole region, to boost its local arts industries.
The concert was a chance for Hohhot to embrace the creation of films, music and the literary arts.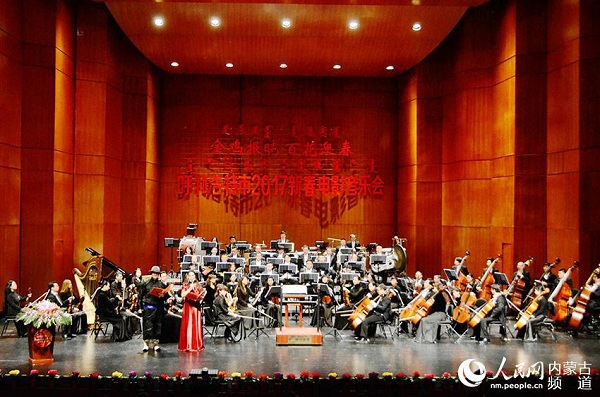 The opening of the film concert held in Hohhot on Feb 19. [Photo/people.cn]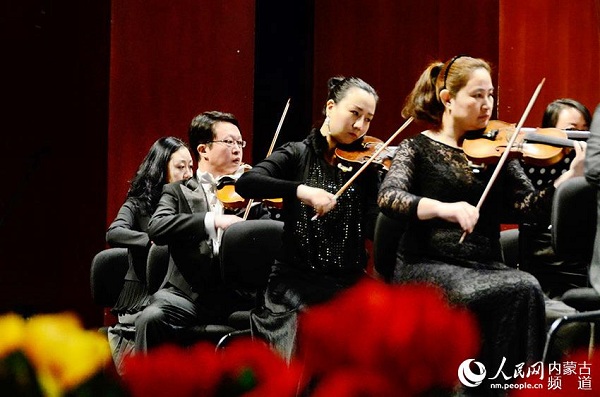 Violinists perform Swan Goose, a classic Mongolian song, in Hohhot on Feb 19. [Photo/people.cn]