Temple conducts sacred rites during Lantern Festival
By Zhao Xiao (chinadaily.com.cn)
Updated: 2017-02-14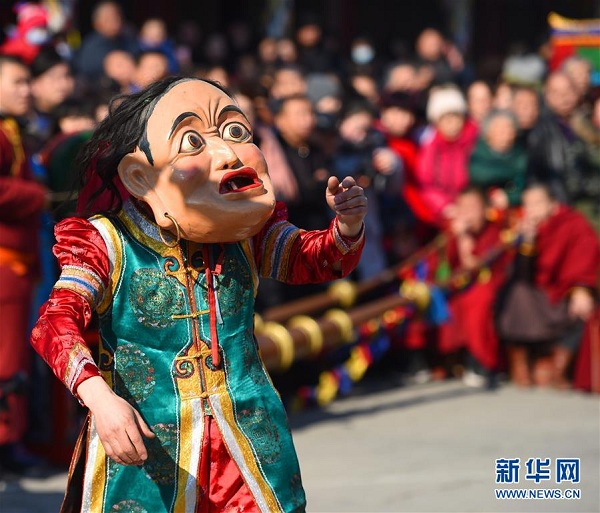 A lama performs a chama dance, which combines dancing, opera, puppetry, and religious rites, populated among Mongolian and Tibetan people especially the lamas, at the Dazhao Temple in Hohhot, Inner Mongolia autonomous region, on Feb 11. [Photo/Xinhua]
A flock of people gathered at the Dazhao Temple in Hohhot on Feb 11 to watch sacred Lamaism rites conducted by monks while they prayed for luck and blessings.
Built in 1580, the Dazhao Temple was the first Lamaism temple in Hohhot, measuring 30,000 square meters. A Sakyamuni statue, standing in the Buddhism hall, has a history dating back 400 years. The temple features statues of Buddhas and bodhisattvas, dragon-shaped carvings, and mural paintings. Monks in the temple usually are called lamaists or lamas, who are pious followers of the Tibetan Buddhism.
The chama dance is usually performed by lamas in Tibetan or Mongolian Lamaism temples. Performers often put on embroidered silk clothing and puppet masks to dance, while they are accompanied by ancient musical instruments including wooden blocks, chime stones, conch shells, radungs, and long brass-wind instruments.
In addition, all performers are men even if they wear female masks and costumes, during which these monks imitate women's behaviors and body movements. The masks performers wear usually are painted with images of immortal spirits, demons, knights, fierce beasts, and ordinary people. As part of Lamaism rites, the performance usually occurs during big ceremonies or grand festivals.
Feb 11 marked China's Lantern Festival, which is held on the 15th day of the first lunar month. During the day Chinese people usually visit lantern fairs, eat glutinous rice dumplings, and enjoy the full moon.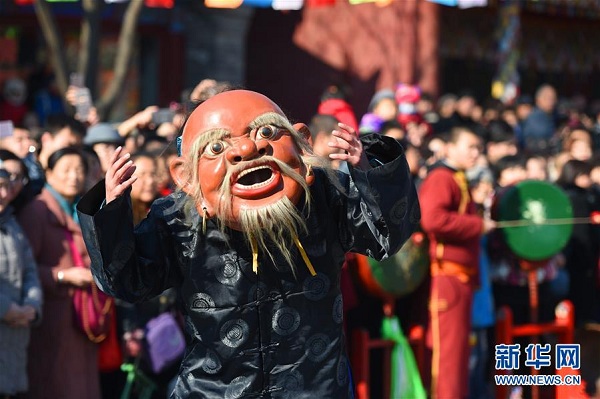 A lama performs a chama dance at the Dazhao Temple in Hohhot, Inner Mongolia autonomous region, on Feb 11. [Photo/Xinhua]