Multiple ethnic customs enrich Hulunbuir
By Zhao Xiao (chinadaily.com.cn)
Updated: 2017-02-12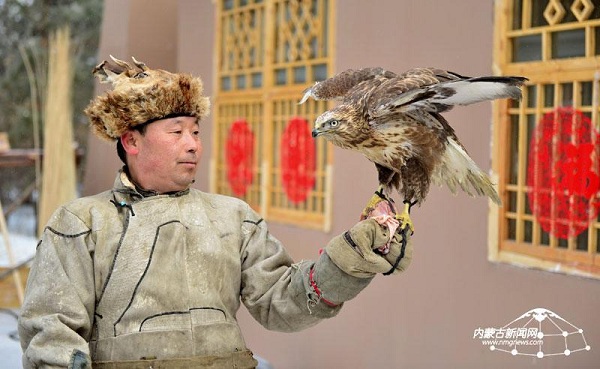 Hu Yongsheng from Daur Autonomous Banner of Morin Dawa demonstrates his falconry skills during the ethnic fairs held in Hulunbuir on Feb 7. [Photo/nmgnews.com]
Events showcasing the folk customs and lifestyles of ethnic groups including the Daur, the Ewenki, and the Oroqen, began in Hailar district, Hulunbuir, North China's Inner Mongolia autonomous region, on Feb 7.
The exhibition featuring the Ewenki ethnic group highlighted traditional clothing and embroidery features in a Mongolian yurt. It provided a chance for the Ewenki people to present unique traditions through this platform, according to Jin Na, an artisan producing Ewenki costumes.
Hu Yongsheng, a master falconer from the Daur ethnic group, demonstrated his proficient skills at the Daur's stall. The Daur ethnic people mainly inhabit Daur Autonomous Banner of Morin Dawa, in eastern Hulunbuir League. The banner was devoted to promoting the local tourism industry during 2016, with tourism revenue increasing 16 percent compared to the same period last year, according to Meng Dongmei, an official of the banner.
The Oroqen people wore unique costumes and performed for visiting tourists during the events. Oroqen Autonomous Banner is located in the northeast of Hulunbuir on the west bank of the Nen River. With a total area covering 59,800 square kilometers, it is the largest county in Hulunbuir.
It's home to a rich natural environment which for generations has provided a background for the ethnic group's unique society and culture.
Due to the unique environment and natural conditions, the Oroqen people have developed their unique skills, methods of production and hunting culture. The forest hunting culture of the Oroqen people is heavily reflected in their economic production, entertainment, folk music, unique customs and religion.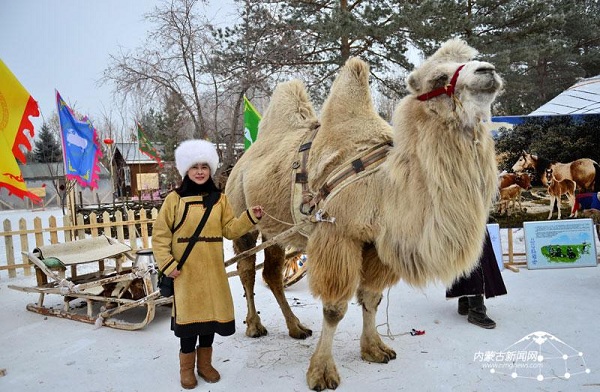 A woman stands next to a camel during the Ewenki fair held in Hailar district, Hulunbuir, North China's Inner Mongolia autonomous region, on Feb 7. [Photo/nmgnews.com]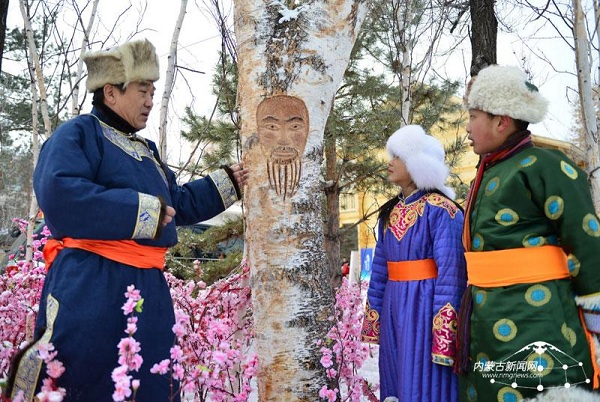 Guo Chunhai (left) from the Daur ethnic group tells two teenagers about the ancient legend of the mountain deity in Hailar district, Hulunbuir, on Feb 7. [Photo/nmgnews.com]