Baotou to produce nuclear reactor units
By Lu Wei (chinadaily.com.cn)
Updated: 2017-01-24
The first AP1000 fuel production line in China has been completed in Baotou, the largest industrial city of North China's Inner Mongolia autonomous region, according to nmgnews.com.cn.
A certificate was granted to China Baotou Nuclear Fuel (CBNF) by Westinghouse Electric Corporation at a ceremony of certification held at CBNF on Jan 19.
The ceremony of certification for the AP1000 fuel production line is held in Baotou, Inner Mongolia autonomous region, on Jan 19, 2017. [Photo/Inner Mongolia Daily]
Founded in 1886 by inventor and entrepreneur George Westinghouse (1846-1914), Westinghouse Electric Corporation is a US-based manufacturing company. The company specializes in the manufacture of electrical equipment and nuclear reactors, and has 250 factories in 26 countries and regions all over the world.
Westinghouse Electric Company reached agreement with CBNF in January 2011 to design, manufacture and install fuel fabrication equipment that will enable China to manufacture fuel for the fleet of Westinghouse AP1000 nuclear reactor units being built there.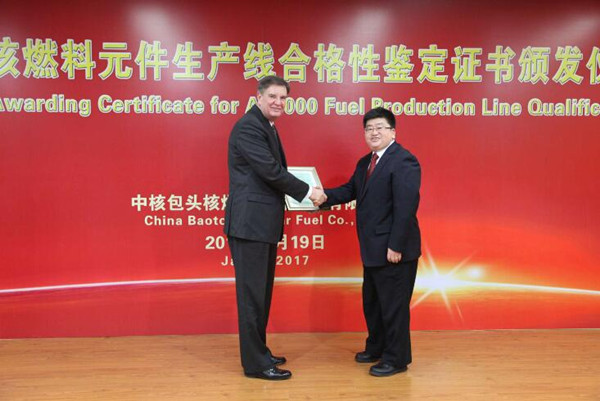 A certificate is given by US-based nuclear reactor manufacturer Westinghouse Electric Company to China Baotou Nuclear Fuel (CBNF), marking a new breakthrough in nuclear reactor unit manufacturing for China, Jan 19, 2017. [Photo/Inner Mongolia Daily]
Work on the construction of the production line began in March 2012, and passed the assessment conducted by Westinghouse Electric Company in October 2016.
"The certificate marks CBNF's authorization to produce AP1000 nuclear reactor units," Zhou Han, an official of Westinghouse Electric Company, said at the certification ceremony.
Earlier on Jan 14, CBNF signed a major contract on the purchase and sale of AP1000 nuclear reactor units with Sanmen Nuclear Power Plant, which is located in Sanmen county, Taizhou, East China's Zhejiang province.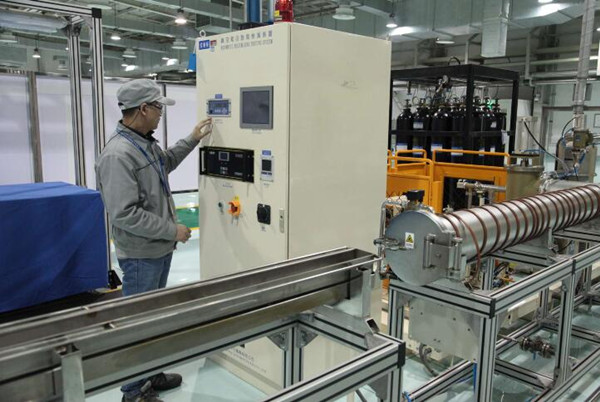 China's first AP1000 fuel production line is fully completed in Baotou, the largest industrial city of North China's Inner Mongolia autonomous region, Jan 19, 2017. [Photo/Inner Mongolia autonomous region]