Ice carnival staged in Ejin Banner
(chinadaily.com.cn)
Updated: 2017-01-16
Ejin Banner's first ice carnival, located in its desert poplar scenic area, began on Jan 7 and will last 45 days.
The festival, co-sponsored by agencies including Ejin Banner Party committee and the local government, feature the beautiful scenery of desert poplar trees dressed with snow, a string of winter sports events, the Nadam Fair for camels, a trade fair for Inner Mongolia characteristic merchandise, and a forum for desert poplar preservation and development.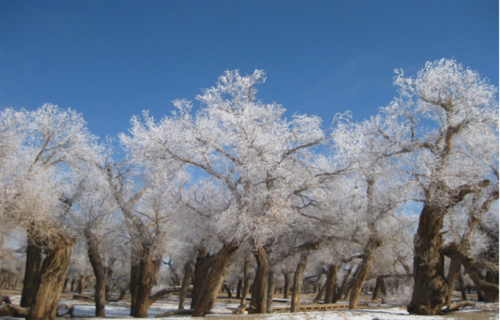 Desert poplar trees are dusted with snow. "The golden yellow desert poplar trees in the autumn are as wonderful as in fairy tales. In the winter, the snow-covered trees take on a much different kind of glamour. We look forward to activities of this kind in the future to enrich our lives," said Yin Haifeng, a tourist. [Photo provided to China Daily]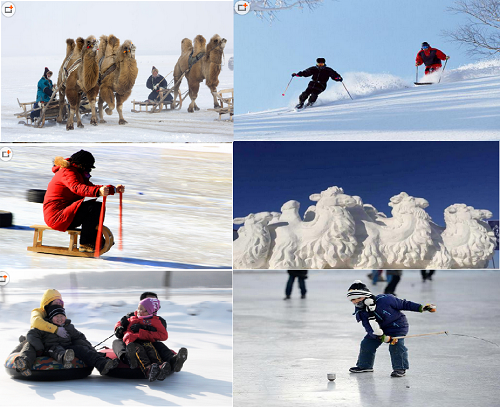 Winter events at the carnival include snow sculptures, skiing, sledding, ice trolleys, sleighs pulled by camels, and spinning tops on the ice. [Photo provided to China Daily]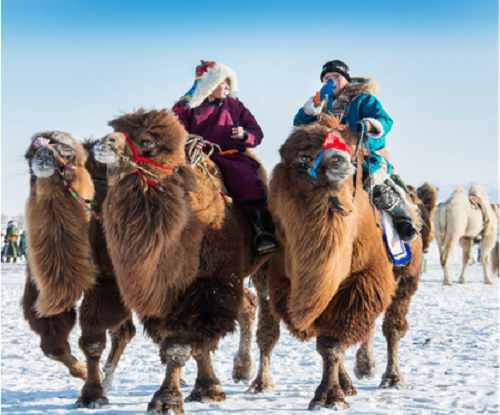 At the Nadam Fair for camels, visitors can ride camels for various races. [Photo provided to China Daily]
At the trade fair, the exhibited handmade tapestries, leather paintings, Inner Mongolia clothing, and specialties characterized in Inner Mongolia autonomous region, became a highlight for travelers visiting the carnival.
The forum targeting discussions about desert poplar protection and tourism in Ejin Banner attracted renowned tourism and forestry professionals from across the nation.
"The ice carnival held in the desert poplar scenic spot marks a significant step for Ejin Banner to make its tourism prosper throughout the whole winter. The government will take this opportunity as a beginning and strive to build the place into a global tourist destination featuring diversified activities all year round," said Sun Xingyu, head of Ejin Banner's Propaganda Department.
Ejin Banner has been engaged in boosting its tourism industry in recent years. The ice carnival serves as a part of Inner Mongolia autonomous region's project to showcase its natural and cultural landscapes. The region received 11,770 national and overseas visitors during the New Year holiday, according to incomplete statistics, rising by 727 percent compared with other winter periods, and with revenue amounting to 9,427,800 yuan ($1.37million).
Ejin Banner aims to promote its "culture, tourism, and sports" mode, and expand its brand influence by founding a cultural research institute, launching cycle races around the desert poplar woods, marathons, and off-road rallies. Festivals with local features will also be initiated to integrate tourism with shopping experiences and fine food. The government promised to release policies and regulations soon to help regional tourist agencies thrive.