Inner Mongolia to focus on poverty reduction
By Zhao Xiao (chinadaily.com.cn)
Updated: 2016-11-21
In 2016, the annual budget for poverty reduction in the Inner Mongolia autonomous region rose to 5.79 billion yuan ($870 million), a year-on-year increase of 21 percent, according to the local finance department.
During the first year of the 13th Five-Year Plan (2016-2020), the Inner Mongolia Finance Department has been following national and regional policies on poverty alleviation, and around 2.25 billion yuan has already been earmarked for spending on the poor.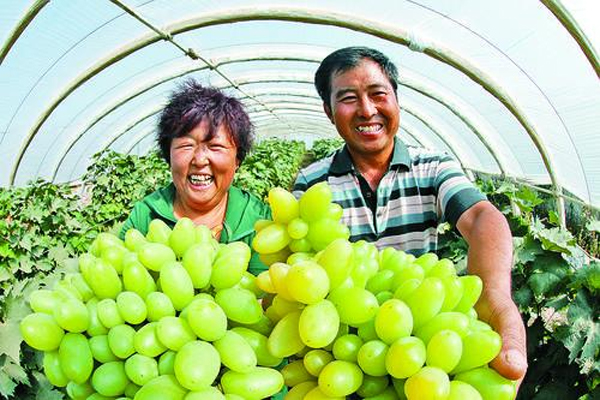 A local couple showcases their harvested grapes planted in the Budunhua Agriculture Science and Technology Pilot Zone, in Horqin Right Wing Middle Banner, Hinggan League, Inner Mongolia autonomous region. [Photo/nmgnews.com.cn]
Within the funding allocation, China's Finance Ministry has contributed 1.98 billion yuan, representing an increase of 459 million yuan on the same period last year, the highest amount ever contributed by the ministry. The regional financial investment for aiding the poor has reached 1.87 billion yuan, and the rest of the funds come from local counties, banners, and leagues, making a total of 1.94 billion yuan.
The poverty reduction program targets at a series of projects. First, the funds are used for improving living conditions in rural areas, including the construction of roads for convenient transportation, the establishment of reservoirs for clean drinking water and agriculture irrigation, and the construction of sewage treatment plants for better environmental protection.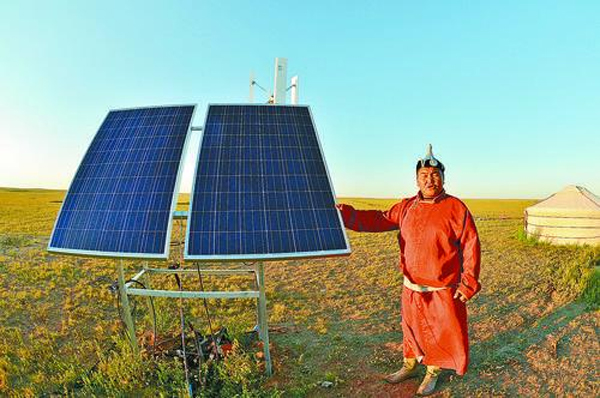 Gangtu Liga, a herdsman in Abag Banner, utilizes solar panels outside his Mongolian yurt to generate electricity. [Photo/nmgnews.com.cn]
Second, the government plans to boost the development of local industries, particularly organic farming, livestock product processing, and Mongolian-style tourism. Thus, more jobs will be created and the local economy can enjoy sustainable economic growth.
Also, the funds are being used to improve education in deprived areas, such as through the building of school infrastructure, living subsidies for underprivileged boarders, free tuition for those in need, vocational schools, and a host of other measures.
Finally, funds will be invested in basic health care and medical services in less-developed regions, subsidizing medical insurance, reimbursing the costs of medicines and operations, and increasing the living allowances of rural doctors.
Despite difficult economic times, the funds for the underprivileged should not shrink but keep pace with the 12th Five-Year Plan (2011-2015), according to the regional finance department.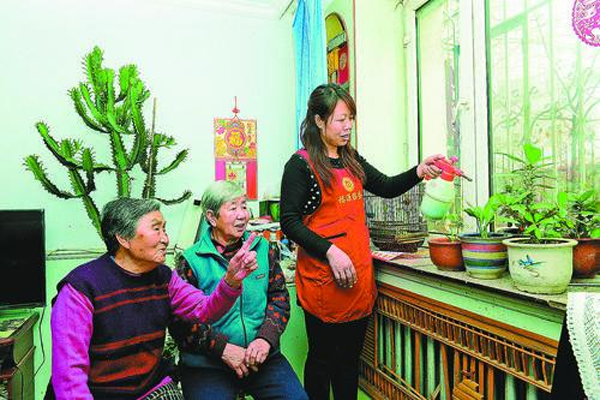 A worker from Fuyuan Community Service Center in Hohhot cares for two senior citizens at their home in Dikuang neighborhood, Sihan district, Hohhot. [Photo/nmgnews.com.cn]